Page Menu
Oatmeal Raisin Cookies
Prep Time: 5 minutes Bake Time: 10-15 minutes Makes: 24 cookies
Ingredients:
1 cup applesauce
½ cup raw local honey
1 egg (or 1 chia seed egg)
1 teaspoon vanilla extract
1 ½ cup oat flour
1 teaspoon baking soda
1 tablespoon chia seeds (ground if needed)
1 teaspoon cinnamon
½ teaspoon sea salt
¼ teaspoon nutmeg
3 cups gluten free rolled oats
¾ cup raisins (optional)
Directions:
Whisk applesauce and honey in a large mixing bowl until combined.
Add egg and whisk. If using chia seed egg- combine 1 tablespoon ground chia seeds to ¼ cup warm water. Stir and set aside for 2-3 minutes or until mixture gels.
In a medium mixing bowl combine oat flour, baking soda, cinnamon, salt, and nutmeg. To make oat flour- Add 1 cup gluten free rolled oats to a blender and blend for ~30 seconds or until flour consistency.
Add flour mixture to wet ingredients and stir to combine. Fold in chia seeds, oats, and raisins.
Refrigerate cookie dough for ~15 minutes while oven preheats to 375o Line 2 baking sheets with parchment paper.
Drop spoon-size scoops of dough onto baking sheet and flatten a bit with a spoon. Bake for 10-15 minutes. Remove and let cool. Store in air-tight container.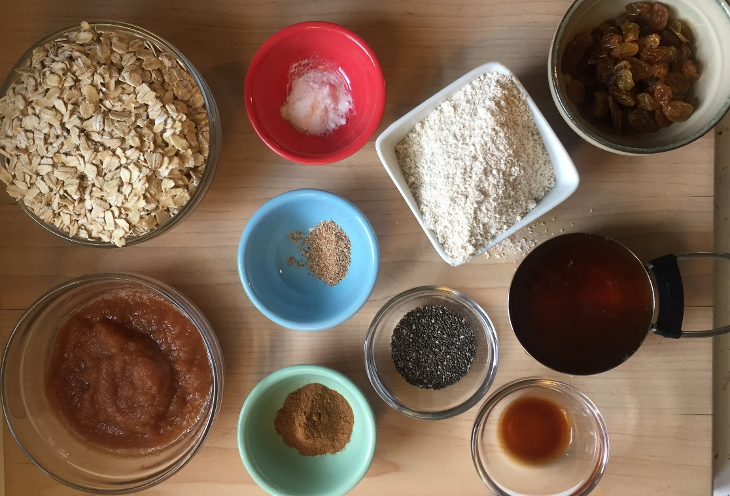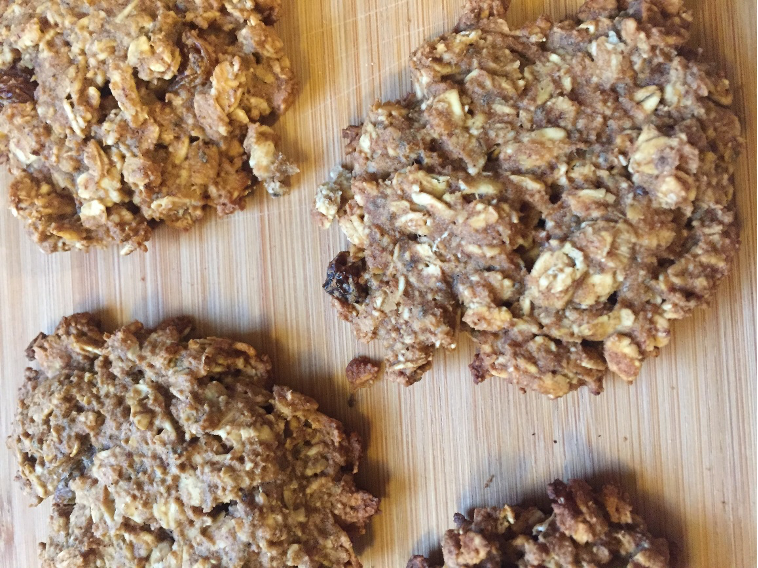 IBD-AID™ Phase III (as tolerated). Phase II may need to puree raisins & strain out seeds, chia seeds may need to be presoaked/ground (as tolerated)
Recipe and Image Credit: Rene Maserati