Page Menu
Nutty Chocolate Oat Snack Balls
Prep Time: 10 minutes Makes: 20 balls
Ingredients:
½ cup raw almonds
½ cup raw walnuts
½ cup gluten free rolled oats
2 tablespoons unsweetened cacao powder
2 tablespoons coconut oil, melted
1 tablespoon raw local honey
2 tablespoons ground flaxseed
2 tablespoons ground chia seed
2 tablespoons cacao chips, unsweetened (optional)
Directions:
1. Add almonds and walnuts to a food processor and blend until fine. Add remaining ingredients and blend, adding a few tablespoons of water if necessary to bring mixture together.
IBD-AID™ Phase III (as tolerated).
For IBD-AID™ Phase II, oat balls should be smooth in texture/consistency and moist. Can swap raw nuts for smooth nut butters and instead of raw oats, can use cooked and cooled rolled oats (as tolerated). Please see IBD-AID™ Foods list to adapt recipe according to personal tolerance and phase.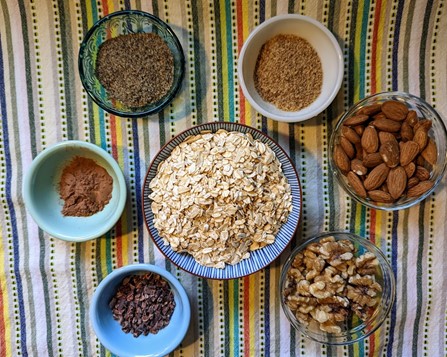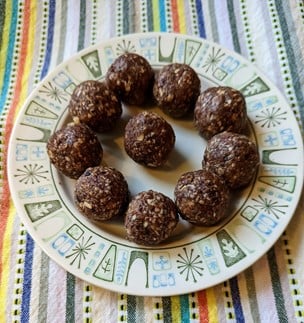 Recipe and Image Credit: Rene Maserati