Page Menu
Banana Peach Oat Pancakes
BPOPs (aka Banana Peach Oat Pancakes)
Prep Time: 10 minutes Cook Time: ~4 minutes per pancake Makes: 6 pancakes

Ingredients:
1 cup oat flour (gluten free rolled oats added to a high-speed blender= oat flour)
2 teaspoons baking powder (aluminum free)
1 ¼ teaspoon baking soda
½ teaspoon sea salt
1 cup kefir, (plain)
1 egg, lightly beaten
2 tablespoons coconut oil, melted (or healthy oil of choice reference IBD-AID Foods list)
1 teaspoon vanilla extract
1 tablespoon local honey
1 medium banana, cut into small pieces
1 peach, peeled and cut into small pieces

Directions:
1. Combine dry ingredients in a medium mixing bowl. Combine oil, vanilla, honey, and egg. Add to dry ingredients. Stir in banana and peach.
2. Heat a little oil in a skillet. Pour pancake batter onto hot skillet. When little bubbles form on surface of pancake, wait ~2 minutes and flip. Remove from skillet once both sides of pancake are golden brown.

IBD-AID™ Phases II and III.
For Phase I, remove peach from recipe (as tolerated)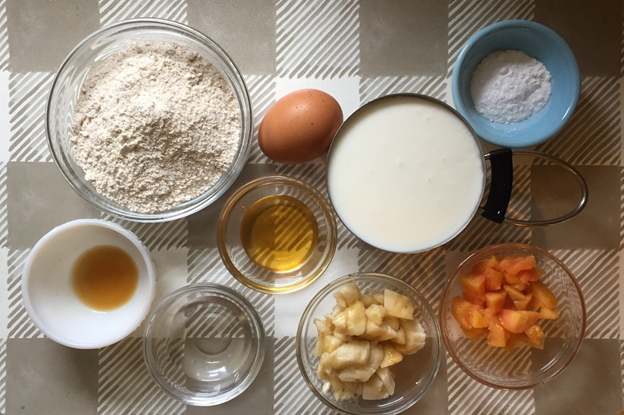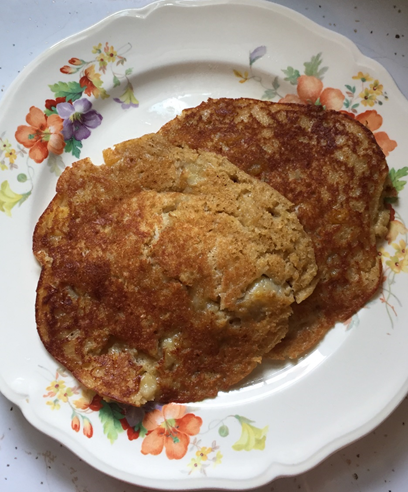 Recipe/Image Credit: Rene Maserati