Page Menu
Oat Groat Dolma
Prep Time: 25 minutes Cook Time: 35-40 minutes Makes: 10-12
6 outer cabbage leaves, micro-steamed, cut in half
1 small sweet potato, peeled, diced, micro-steamed
1 small leek, sliced thin
2 tablespoons golden raisins (optional)
2 tablespoons fresh chopped cilantro
1 ½ teaspoons ground cumin
1 teaspoon minced jalapeno
1 teaspoon honey (optional)
1. Preheat oven to 350F. Micro-steam cabbage leaves- place on plate, add ~1 tablespoon water, cover with a damp paper towel. Microwave for 3 minutes. Allow to cool. Cut leaves in ½, removing the thick middle. Set aside. Finely chop the middle part and add to oat mixture.
2. Sauté leeks in water in a large skillet until soft. Add zucchini, and sweet potato. Cook until tender. Meanwhile, whisk together cilantro, cumin, olive oil, jalapeno, honey, salt, and pepper in a small bowl. Set aside.
3. Add oat groats, leftover chopped cabbage middles, and cilantro mixture to skillet and stir to coat. Cook for ~10 minutes, adding ~1-2 tablespoons water if needed. Remove from heat.
4. Add 1-2 tablespoons oat mixture to cabbage leaf and roll. Place seam side down in baking pan. Repeat until all leaves are filled. Bake for 10-15 minutes.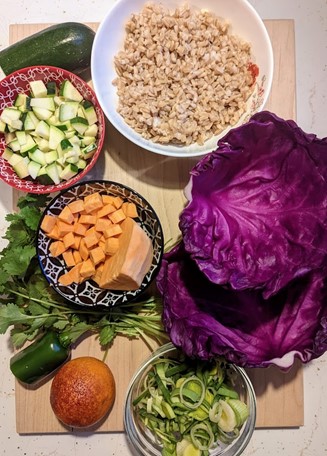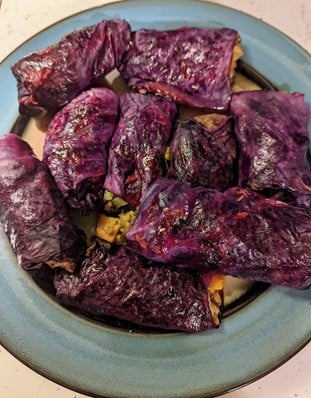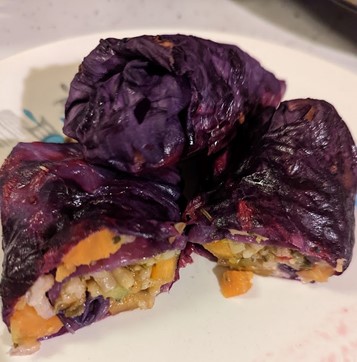 Recipe and Image Credit: Rene Maserati
IBD-AID Phase III (as tolerated)