Page Menu
Life is Sweeter with Apples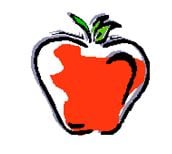 by Judy Palken, MNS, RD, LDN
Apples taste great, and never more than this time of year, when they come into season locally, for you to pick from a tree or scoop off the grocery store shelf! They're great in recipes, and great on their own as a snack. But nutritionally… well, I used to think that apples were so-so, good only for their wonderful fiber. When I thought of nutritious fruits, what came to mind was oranges, mangos, papayas, strawberries - you know, the colorful ones loaded with vitamin C and great phyto- (plant) chemicals.
Well, it turns out I had something to learn, and let me pass it on to you! Apples have GREAT phytochemicals of their own!
Apples contain quercetin, a plant compound called a flavonoid that has great antioxidant and anti-inflammatory effects. (as you may have heard, cherries are also a great source of this compound - go red foods!)
Apples have rutin, an antioxidant that is anti-inflammatory and can help to prevent blood clots, by inhibiting platelet aggregation.
Apples are a source of Beta-sitosterol, which can help to lower the harmful LDL-cholesterol level.
Some of these beneficial compounds are in and right under the peel, so it's best for you to consume the peel when eating or cooking with apples. Just be sure to wash them well with running water and a scrubbing brush.
If you are trying to cut back on added sugar, but still crave dessert, apples come to the rescue.
Try a simple baked apple with no sugar added, as follows:
Baked Apple
Ingredients:
1 apple

1 tsp raisins

1 tbsp chopped walnuts

1 tsp extra virgin olive oil or canola oil

very generous dash cinnamon

about 1/8 cup water
Directions:
Preheat oven to 350 degrees.

Wash the apple. Slice off the top, about 1/2" thick. Scoop out the core of the apple; do not peel.

Fill with the raisins, walnuts, oil, and cinnamon.

Place the top back on it, like a lid.

Place in a small baking dish, adding the water around it.

Bake uncovered until soft, about 45 minutes. The time can vary, depending upon how soft you like your apple.

Before you eat it, give the inside a bit of a stir, to mix in the flavors and textures of the filling.
Here's another, this one with maple syrup.
Gluten-Free Maple Apple Crisp
Serves 6
Ingredients:
Filling:
4-5 medium tart green apples (4 cups cored and sliced)

1 tsp ground cinnamon

1/4 tsp ground nutmeg

2 tbsp healthy soft spread, melted (Smart Balance, Earth Balance) or canola oil

1 tbsp pure maple syrup
Crisp Topping:
1 cup gluten-free quick oats

1 tsp ground cinnamon

1/4 tsp salt

2 tbsp healthy soft spread, melted (Smart Balance, Earth Balance) or canola oil

1/4 cup pure maple syrup
Directions:
Preheat oven to 375 degrees.

Lightly oil a 9×9-inch square baking dish and set aside

Prepare the filling:

Halve the apples, core them, and slice thinly. Don't peel. You should have about 4 cups.

Place the apples in a large bowl and toss with the cinnamon and nutmeg until thoroughly coated.
Add the melted soft spread or canola oil and the maple syrup, and mix to coat the apples thoroughly.

Spread the apple mixture in the bottom of the prepared dish and set aside
Prepare the crisp topping:
In a medium bowl, toss the gluten-free quick oats with cinnamon and salt.

Add the melted soft spread or canola oil and maple syrup and mix well. Sprinkle this oat mixture evenly over the top of the apple filling.

Bake uncovered for 45-50 minutes, or until the apples are soft. Allow to cool for about 10 minutes before serving.
Adapted from: http://thefitcookie.com/healthy-gluten-free-maple-apple-crisp/
You may have your own recipes, perhaps for apple pie, or apple crisp. You can cut back on or even eliminate the added sugar. You will then notice the natural sweetness of the apples in the recipe.
Here is a soup recipe that combines apples with lentils, a real super food! You will find that the apples and the carrots give this soup a wonderful sweetness.
Vegan Red Lentil Apple Soup
Ingredients:
1 tbsp extra virgin olive oil

1 red chili, diced

2 carrots, peeled and diced

2 onions, diced

6 cloves garlic, minced

2 apples with peel, diced

1 tbsp minced ginger

1 tbsp cumin

1/4 tsp crushed red pepper flakes - optional

2 tsp turmeric

1/2 tsp salt

1 tsp dried coriander

1½ cup dried red lentils

6-7 cups vegetable broth

1 cup coconut milk
Directions:
Heat olive oil in a large pot over medium to high heat and add the chili, carrots, and onions. Cook for about a few minutes until softened.. Add the garlic and cook for 1 minute or until aromatic.

Add the apples, ginger, cumin, red pepper flakes (optional), turmeric, salt and coriander, stir well.

Add the lentils and vegetable broth. Mix and bring it to a boil. Reduce the heat to medium-low and simmer uncovered for 20-30 minutes or until the lentils become soft. Stir occasionally.

Once the lentils are cooked add the coconut milk, bring to a boil, and remove from heat.

Optional - use a blender to make the soup smooth and creamy (an immersion blender is great for this).
Adapted from AvocadoPesto.com
Notes - Only add the red pepper flakes if you want it spicy!
You may want to go up on the cumin - try it, and see if your taste buds want more of this delicious spice.
As I wrote this, I was inspired to experiment - I cooked lentils in my rice cooker, and I tossed in a cut up apple, with the peel.
As you may know, a rice cooker is a simple appliance meant for cooking rice and other grains; very handy because it senses when the grain is cooked, and switches the heat to warm, or a holding temperature, so you don't have to be right there or risk your rice burning!
The lentils and the chopped apple cooked just fine in the rice cooker, and I served it over some leftover brown rice, seasoning simply with a drizzle of extra virgin olive oil and a dash of black pepper. It tasted great - what a wonderful, nutrient-dense, high fiber lunch - and sweet from the apple!