Page Menu
Ginger Turmeric Tomato Veggie Soup
Prep Time: 20 minutes Cook Time: 15-20 minutes Makes: 4-6 servings
Ingredients:
½ small onion, diced
½ small leek, thinly sliced
2 cloves garlic, minced
1" piece fresh grated ginger
1" piece fresh grated turmeric
2 small carrots
2 stalks celery
½ bunch broccolini
½ zucchini
1 14-ounce can diced Italian-style tomatoes, no additives
2 cups broth or water
1 handful arugula
Salt and pepper to taste
Directions:
Sweat onions and leeks in 1-2 tablespoons of water or oil in a medium stockpot until translucent, ~5 minutes. Chop carrots, zucchini, celery, and broccolini into small pieces. Add garlic, ginger, and turmeric to pot.
Add remaining ingredients to pot, except for arugula. Bring to a boil, reduce heat and simmer for 10-15 minutes or until carrots are tender. Remove from heat. Add arugula. Cover and allow it to wilt, ~1-2 minutes. Salt and pepper to taste.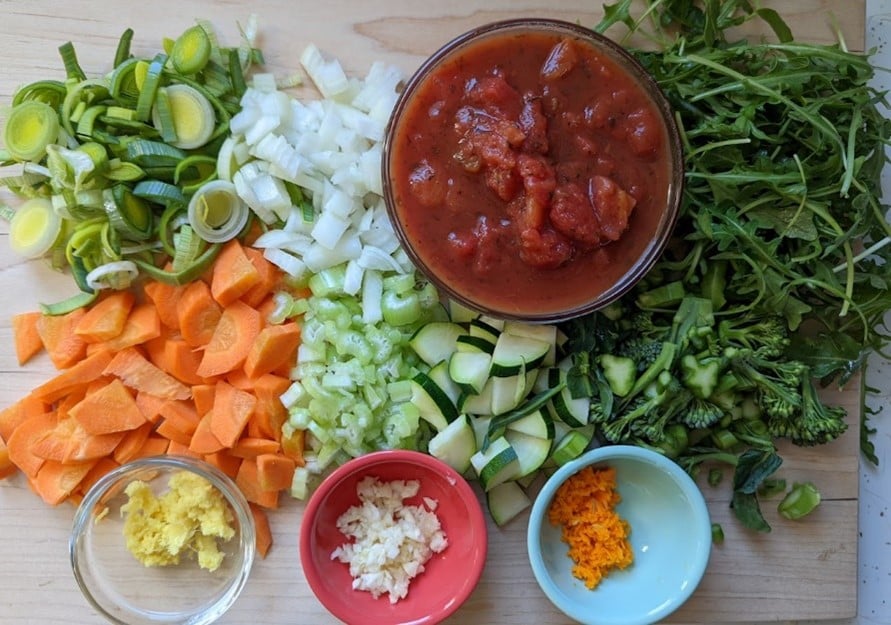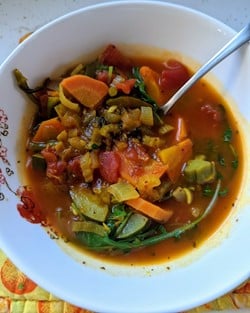 Recipe and Image Credit: Rene Maserati
IBD-AID Phase III (as tolerated).