Page Menu
Power-packed Proteins All About Beans
THE MAJOR NUTRIENTS IN BEANS:
All varieties of beans are rich sources of protein, fiber, and the essential amino acid, lysine. Beans also contain folic acid and many minerals, such as iron, zinc, and magnesium. Beans also contain disease-fighting antioxidants.
HOW BEANS PROTECT OUR HEALTH:
Beans are considered a "superfood" because they are one of the most nutritious foods you can eat. As a result of their high fiber content, beans help to protect against diabetes, cardiovascular disease, and maybe even some cancers. The soluble fiber in beans can help to lower the harmful LDL-cholesterol, and help to regulate blood sugar levels. It can also help us to feel satisfied after we eat, and therefore help with weight control. The plant protein content in beans helps improve the dietary quality of a meal, and can take the place of meat.
How to counteract the drawbacks of beans:
The high fiber content that makes beans so healthy can also be a potential drawback, by causing intestinal gas and discomfort in some people who have difficulty digesting this type of fiber. If this is the case, eat beans in small amounts at first, adding them gradually to your diet. Digestive or multi-enzymes (a supplement taken to help digest foods) can help, or a product called Beanoä, which helps to reduce gas formation and intestinal discomfort. Also, it is very important to drink plenty of water as you eat more beans, or any food high in fiber.
Canned beans are a faster alternative to cooking dried beans. As with most canned products, they usually have added salts so it is important to rinse canned beans well before cooking, in a strainer under running water.
FINDING THE FIBER IN BEANS:
| | | |
| --- | --- | --- |
| BEANS(1/2 cup cooked) | GRAMS TOTAL FIBER | GRAMS SOLUBLE FIBER |
| Black Beans | 7.1 | 2.8 |
| Black-eyed Peas (canned) | 3.9 | 0.4 |
| Garbanzo beans | 5.3 | 1.6 |
| Kidney beans (canned) | 7.3 | 2.0 |
| Lentils | 3.7 | 1.3 |
| Pintos | 6.9 | 2.2 |
| Split Peas | 3.2 | 1.1 |
THE AMOUNT OF SERVINGS PER DAY THAT WE SHOULD CONSUME:
At least 2-3 servings of beans per week is recommended for a healthy and balanced diet. Having beans more often is fine, and is recommended. A 1/2-cup of cooked beans is considered a serving.
HOW TO COOK BEANS (a cheaper alternative to canned, and the salt can be controlled):
| | | |
| --- | --- | --- |
| BEAN (1 cup, soaked) | COOKING TIME | YIELD |
| Peas (dried, split) | 50-60 minutes | 2-1/2 cups |
| Pintos | 60 minutes | 3 cups |
| Runners (scarlet) | 1-1/2 - 2 hours | 1-1/2 cups |
| Soybeans | 2-1/4 hours | 3 cups |
| Navys | 50-60 minutes | 2-1/2 cups |
| Great northern | 50-60 minutes | 3 cups |
| Flageolets | 1-1/2 minutes | 3 cups |
| Anasazis | 50-60 minutes | 3 cups |
| Kidneys | 1 hour | 2 ¼ cups |
| Garbanzos | 2 hours | 2 cups |
| Lentils, brown | 45 min-1 hr | 2 ¼ cups |
SOME DIFFERENT VARIETIES OF BEANS:
Below is a brief description of certain beans to help acquaint you with the wide variety offered to us:

Aduki (Azuki; Adzuki) - small ovals, deep red-brown color with a white line. Nutty, delicious, and quick to cook. Have less calories per cup than any other bean and more nutrients
Black Beans – medium-sized and black in color with a white stripe. Deep, earthy flavor.
Black-eyed Peas - fresh, dried, canned, or frozen, rather quick cooking, medium, cream-colored with a dark blotch, vegetable-like, slightly bitter flavor.
Chestnut Beans - very large, plump and shiny, dark red-brown color when cooked, delicious and delightful to eat
Garbanzo Beans (chick peas) - tan colored, rounder, delicious flavor, take a little longer to cook and should be cooked slowly, used in hummus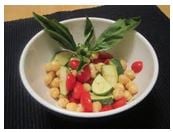 Kidney Beans - kidney shaped, light or dark red, richest in fiber
Lentils - flat, brown colored, earthy flavor, no need to presoak, garlic compliments them when cooking
Pink Beans - similar to pinto beans or small red beans
Pinto Beans - related to kidney beans, slightly smaller and tan colored, down-to-earth flavor, used as refritos (refried beans) in Mexican cooking
Rattlesnake Beans - very similar to pintos
Appaloosa Beans - similar to pintos but larger and thinner, more elegant
Runner Beans (scarlet, white, black) - large, beautiful, distinctive flavor, not easy to find commercially
Soybeans - over 1000 varieties available with various colors, plain but nutty and crunchy when cooked, highest protein content, require longer cooking time
White Bean Family (navy, pea, great northern, flageolet, anasazi, calypso) - slightly bitter flavor, smaller ones (navy and pea) are round and pretty when cooked, excellent in soups.
POPULAR USES OF SOME BEANS:
Navy beans - excellent in soups, stews, Boston Baked Beans, great pureed
Kidney beans - often used in chili, three-bean salads
Pinto beans - refried in stews, dips, many Tex-Mex dishes
Great Northern beans - excellent in soups, stews
Garbanzo beans - great in salads, hummus
Lentils – perfect for soups and stews
Try this bean recipe:
Black-eyed Pea Curry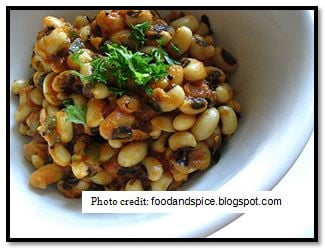 Servings:
Ingredients:
2 cans black eyed peas (rinsed well)
1 large onion, chopped
2 large tomatoes, chopped
1 tsp ginger paste
1 tsp garlic paste
2 tsp curry powder
1 tsp garam masala
1 tsp cayenne pepper or paprika
1 tsp cumin seeds
4 Tbsp extra virgin olive oil
Heat oil and add cumin seeds

Add onions and sauté until translucent.

Add ginger and garlic. Fry for a minute, then add curry, cayenne (or paprika if less heat is desired), garam masala and tomatoes.

Cook until liquid dries up.

Add peas and simmer. Garnish with cilantro. Enjoy!
Nutrient analysis per serving:
360 calories, 15g total fat, 2.2g saturated fat, 10g fiber, 44g carbohydrate,
15g protein, 75mg calcium, 5.5mg iron
References:
Marathe SA, Rajalakshmi V, Jamdar SN, Sharma A. Comparative study on antioxidant activity of different varieties of commonly consumed legumes in India. Food Chem Toxicol. 2011 May 12
US Dry Bean Council – www.usdrybeans.com - a great resource for recipes, cooking tips, health benefits, and more.