Page Menu
Butternut Squash Tomato Curry Oat Groats
Prep Time: 5 minutes Cook Time: 30 minutes Makes: 4 servings
1 cup butternut squash, cubed
6-8 cherry tomatoes, cut in ¼'s
½ bunch stemless Swiss chard, chopped
1 ¾ cup broth (no sugar in ingredients), coconut milk or water
½ cup fresh basil, sliced
1. Sauté onion in oil in a medium stockpot until translucent. Add curry and oat groats, stirring for ~30 seconds or until curry releases its aroma.
2. Add broth, squash, salt and bring to a boil. Reduce heat, cover, and simmer for 25 minutes.
3. Add Swiss chard, tomatoes, and basil. Cover and cook for ~5 minutes more. Remove from heat when groats are tender. Let rest for ~5 minutes. Top with a few leaves of fresh basil and serve.
IBD-AID Phase II* & III (as tolerated). *For phase II, may need add extra liquid and cook longer and/or cut tomatoes into smaller pieces (as tolerated).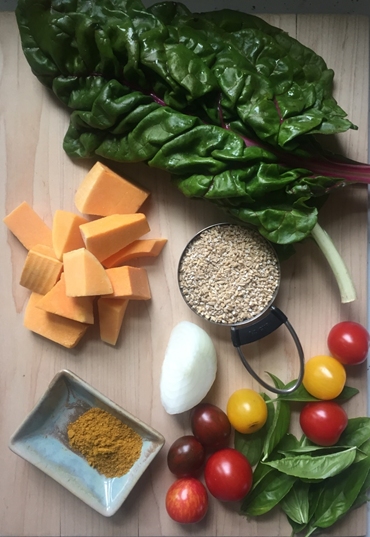 Recipe & Image Credit: Rene Maserati