Page Menu
Quickie Apple Crisp
Prep Time: 10 minutes Bake Time: 10-15 minutes Makes: 4-6 servings
5 medium-small apples, peeled and diced
½ cup gluten free rolled oats
2 tablespoons sunflower seeds (optional)
2 tablespoons pumpkin seeds (optional)
2 tablespoons golden raisins (optional)
2 tablespoons chopped pecans (optional)
4 tablespoons honey, raw local is best
3 tablespoons coconut oil (or butter), room temperature
2 teaspoons ground cinnamon, divided in ½
1. Preheat the oven to 350F. Micro-steam the apples- Divide apples between 2 microwave safe bowls. Add ~2 tablespoons water to the bowl. Cover with a damp paper towel. Microwave each bowl for 2 minutes. Drain apples and place in baking dish. Sprinkle 1 teaspoon of cinnamon over apples and stir to coat.
2. While the apples are micro-steaming, make the crisp. Combine the remaining ingredients in a small mixing bowl, mashing with a fork.
3. Spoon crisp mixture over apples and bake for 10-15 minutes.
IBD-AID Phase III (as tolerated).
For Phase II, remove optional pecans, sunflower seeds, and may need to puree raisins & remove seeds. May need to bake longer for softer texture (as tolerated).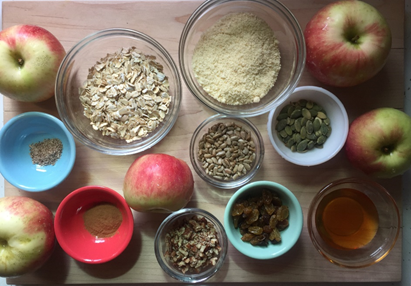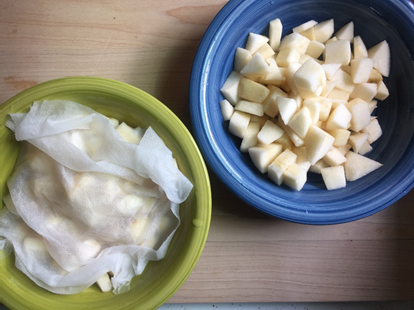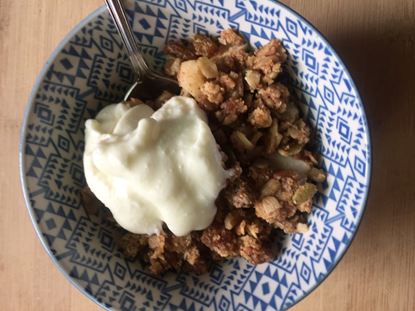 Recipe and Image Credit: Rene Maserati