Page Menu
Creamy Mushroom Turmeric Miso Soup
Prep Time: 15 minutes Cook Time: 30-40 minutes Makes: 4-6 servings
2-3 carrots, peeled and chopped
2 golden beets, peeled and chopped
24 ounces mushrooms (shitake, baby Bella, lion's mane, etc.)
1 tablespoon ground turmeric
1/2 cup raw cashews, soaked 2-6 hours, drained, blended with 1 cup water until creamy
½ cup uncooked red lentils (optional)
1. Rinse and drain lentils. Add to medium cooking pot, top with ~4 cups water. Bring to a boil, reduce heat and simmer for 20-25 minutes or until tender. Drain and set aside.
2. Sauté onion in water or oil over medium high heat in a large stock pot until soft, ~2-3 minutes. Add celery, carrots, beets, and garlic. Stir until fragrant, ~30 seconds. Stir in mushrooms and turmeric. Add broth (or water), bring to a boil, reduce heat and simmer for 30-35 minutes or until veg are tender. Stir in lentils.
3. Remove ~1 cup of broth. Let cool for a few minutes. Combine cashew cream, broth, and miso to a high-speed blender and blend until smooth. Add mixture to soup. Using a stick blender, blend until smooth.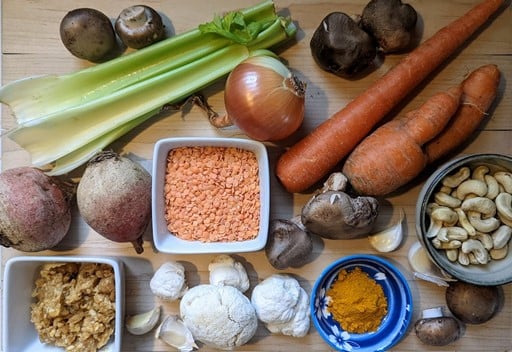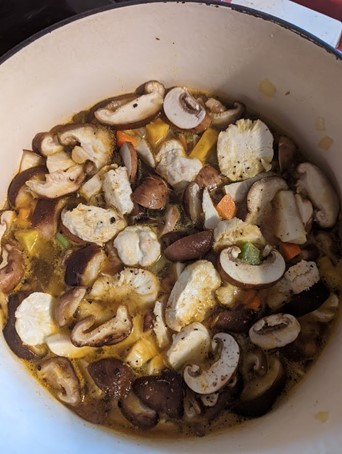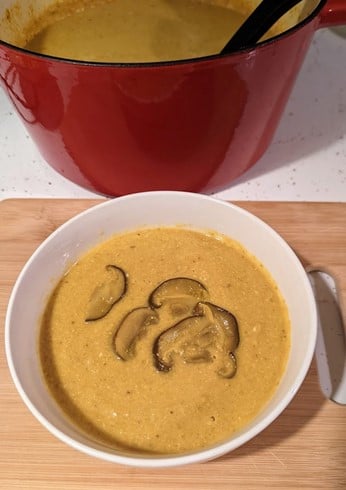 Recipe and Image Credit: Rene Maserati
IBD-AID III (as tolerated). For phase II, may need to omit celery and/or lentils (as tolerated). Please see IBD-AID Foods lists to adapt recipe according to phase and tolerance.