Thank You Dr. Jean-Marc Gauguet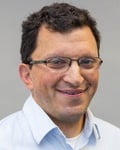 Hello Dr. Gauguet and Dr. Prokhorov*,
I hope that this email finds you both well! I'm a Nurse Educator on S6 at Memorial. I have been meaning to send this email since December as the smallest gesture of thanks. You don't know me or my son, but you provided a read for my 2 year old son that has had recurrent respiratory infections since his infancy. I was starting to feel somewhat crazy about his ongoing illnesses. Things have not felt quite "right." As a nurse, that is a common feeling among your patients with a general inability to diagnose, but a hunch that things are "off." That feeling is even more displeasing when it's your own son.
Anyhow, you spotted the slightest anomaly questioning a double aortic arch and were correct. Due to your accurate interpretation of his chest x-ray, we have been able to follow up with cardiothoracic surgery at BCH to correct his congenital anomaly in the coming weeks. Our hope is that he will have a better quality of life.
Thank you for your keen eye. Without it, these episodes could have persisted for years without understanding the true root cause.
THANK YOU from the bottom of my heart!
Respectfully,
Natalie
Natalie Dellecese, BSN, RN
Nurse Education Safety Specialist South 6/West 1
Memorial Campus
Update from Natalie - Thank you! He is doing well after his surgery at BCH. We are so relieved!
*SVH Radiology Resident rotating with Dr. Gauguet