Page Menu
Neuroradiology Fellowship
The Neuroradiology Fellowship Program at UMass Chan Medical School provides trainees with an in depth one-year comprehensive neuroimaging training experience and offers exposure to all aspects of neuroradiology practice. The goals of fellowship are to offer fellows high-quality experiences in the areas of education, patient care, professionalism and research.
UMass Memorial Medical Center is a 781-bed tertiary care hospital and the clinical partner of UMass Chan Medical School. UMass Memorial is Worcester County's only Level I Trauma Center, comprehensive stroke center and the referral center for central New England. The Department of Radiology at UMass Memorial performs over 1 million studies per year, across five hospitals and an outpatient imaging center. Current faculty in the department include 65+ fellowship trained Radiologists. The department trains 5 Residents per year (20 total). The Division of Neuroradiology comprises of 10 Neuroradiologists and interprets approximately 65,000 neuroimaging studies yearly. The Neuroradiology Faculty.
The department has an enterprise wide PACS system (AGFA), as well as EPIC EMR. The hospital campuses and outpatient imaging center have 8 MRIs (including a GE Pioneer 3T system), 9 CTs, including a Siemens dual source "flash" and two Siemens 128 Definition Edge CTs and two state-of-the art neurointerventional Philips biplane machines.
The collaborative clinical and research environment provides nearly daily interdisciplinary conferences including neurosurgery, neurology, otolaryngology, and pediatric neurology, along with a robust education program. Fellows will have access to world leaders in neurodegenerative diseases, ALS, MS, and stroke.
The neuroradiology divisions work in close collaboration with our internationally recognized Neurointerventional Radiology division (NIR) which is comprised of 5 faculty and is supported by a robust NIH and industry funded research program via our New England Center for Stroke Research (NECStR), MRI research core with a 3T Philips MRI and 7T Bruker small animal MRI, and Image Processing Core lab.
Clinical rotations are designed to enable the fellows to acquire a broad base of knowledge, develop technical skills and develop decision-making and consultation skills. The rotations provide the fellow with opportunities to develop progressively independent skills in the performance and interpretation of neuroimaging studies and neurointerventional procedures.
The fellowship program prepares fellows to be able to interact with the referring physicians and function in consultative roles. This is accomplished through the day-to-day activities at the hospital. Fellows are an integral part of all interdisciplinary conferences.
Fellows participate and sometimes lead clinical research projects and quality projects within the division. Fellows are encouraged to submit abstracts/papers to national meetings. A broad range of basic science and translation research activities within UMass Chan Medical School system provide an opportunity for more in-depth research exposure.
Areas of research focus at UMMS include:
Endovascular treatment of stroke
Multiple Sclerosis
ALS
Tay Sachs and Huntington's Disease
State-of-the-art gene therapy trails
Large animal models for pre-clinical gene therapy
At the conclusion of the fellowship, each fellow should be capable of independent and accurate clinical decision-making in all areas of neuroradiology.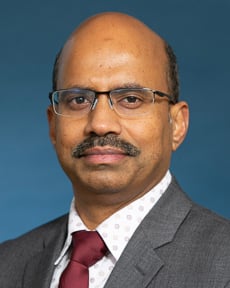 Sathish Dundamaddapa, MD
Program Director
Neuroradiology Fellowship