Tejas Mehta New Director for Diversity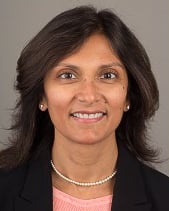 It gives me great pleasure to announce that Tejas S Mehta, MD MPH, Associate Professor of Radiology, will be taking on a new role as our first Director for Diversity, Equity Inclusion and Population Health in Radiology. Tejas joined us last year from BIDMC as one of our Breast Imaging Faculty. She has been representing the Radiology Department on the UMass DEI committee and has been working closely with the Population Health team at UMMMC to help develop direct-to-radiology pathways and improve access and availability of imaging resources for the entire Worcester community. In her new role, Tejas will be responsible for overseeing all our DEI initiatives in Radiology, including helping us develop our Diversity and Equity Action Plan. Her role will be key as we continue to find ways for Radiology to align with a wide range of UMass Memorial Health's strategic goals.
Dr. Mehta earned her BS in Biology from Adelphi University, her MD from Tufts Medical School, and her MPH from the Harvard School of Public Health. At BIDMC she was the Division Chief of Breast Imaging and served on numerous committees including the BIDMC Trustee Advisory Board and Equity Leadership Team. At Tufts Medical School, Tejas has served as President of the Tufts Medical Alumni Association Executive Council, and as a member of the Board of Advisors. She is actively involved in many national organizations, including serving as chair of the Inclusion Diversity Equity alliance (IDEA) Committee of the Society of Breast Imaging.
On a personal note, it's wonderful to have Tejas working with us at UMass. I have known her since she was a resident at BIDMC and have seen her career flourish in so many directions. I am delighted that she will taking on this new role at UMass and sharing her expertise and leadership in clinical care, DEI, and process improvement.
Sincerely,
Max
Max P. Rosen MD MPH
Professor and Chair
Department of Radiology