Outstanding Clinical Educator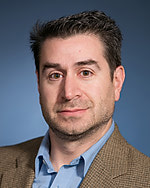 The T.H. Chan School of Medicine Class of 2022 honored Christopher Cerniglia, DO, MEng with an Outstanding Clinical Faculty Educator Award. Dr. Cerniglia is an associate professor in musculoskeletal imaging and the radiology director for undergraduate medical education. Dr. Cerniglia is co-leader for the first year medical school course - Development, Structure and Function and co-host for From The Viewbox podcast.
The Outstanding Clinical Educator Awards are voted on by the graduating class and presented at the T.H. Chan School of Medicine Class of 2022 awards ceremony. During the presentation Dr. Cerniglia was introduced as "The Legend Himself, Dr. Christopher Cerniglia." View the presentation on YouTube please note that Dr. Cerniglia was unable to attend the ceremony - https://www.youtube.com/watch?v=N_-YtXCH54g [1:35:50]
Congratulations Chris!