Page Menu
Modalities
Conventional Radiography
All radiography is now performed using either computed radiography or digital radiography. We perform all types of radiography including chest, abdominal, and musculoskeletal. We also have special expertise in performing and interpreting skeletal surveys, to assess infants for subtle evidence of non-accidental trauma.
Fluoroscopy
We perform fluoroscopic examinations on newborns and premature infants at Memorial Hospital, with the remainder of examinations being performed at University Hospital. We use these examinations to diagnose conditions of the gastrointestinal tract and genitourinary tract as well for the performance of arthrograms. We use equipment optimized for children resulting in significantly lower radiation doses. Our technologists have considerable experience working with children and are vital components of the team. They create a "kid friendly" environment which not only puts children and parents at ease, but allows for a high quality procedure with the lowest possible radiation exposure and superb diagnostic images.
| | |
| --- | --- |
| University Campus Pediatric Fluoroscopy Technologists | Memorial Campus Pediatric Fluoro Technologists |
Ultrasonography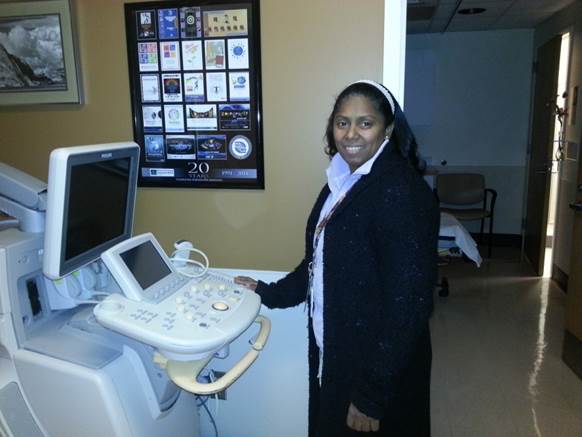 We perform ultrasound at the University campus in the new H1 facility located within University Hospital. A variety of diagnostic procedures receive supervision and interpretation by a pediatric radiologist. Ultrasound has become an important tool for reducing radiation exposure to children. It is now the primary imaging technique for the diagnosis of appendicitis. We performed over 400 appendix ultrasounds in the last year and have markedly limited the use of CT for this disease. Our ultrasound technologists also have special expertise caring for children. Like the fluoro techs, the ultrasound techs create a comfortable environment for our patients and thus are able to produce the highest quality images.
We also provide inpatient diagnostic ultrasound for babies in the Neonatal Intensive Care Unit (NICU) at Memorial Hospital. Premature infants are our smallest patients, some weighing as little as 1 pound. Imaging these tiny babies requires experienced technologists and radiologists familiar with the NICU environment. All imaging must be performed with the baby in the isolette (incubator) in the NICU itself, and be done so as not to disturb the baby and the life support equipment.
| | |
| --- | --- |
| University Ultrasound Technologists | Memorial Ultrasound Technologists |
Computed Tomography
CT is still an important tool in pediatric diagnosis. New technology has evolved to dramatically lower the radiation dose of CT scans in children. Additionally, the CT scans can now be performed very quickly. In the past, some children would need to be sedated with medication in order to insure that they could hold still long enough for the test to be performed. The new ultrafast CT scanners are so fast that sedation is often unnecessary.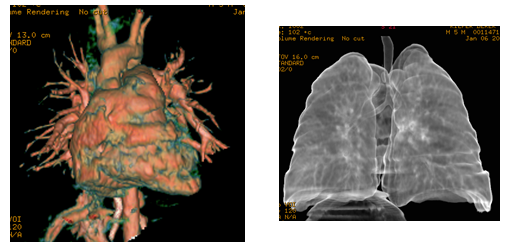 3D reconstruction of a CT scan in a patient with a double aortic arch squeezing the trachea (windpipe) causing him breathing difficulty.
Imaging Magnetic Resonance Imaging (MRI)
We perform routine pediatric MRI studies at CMMIC at University Hospital, CMMIC at Biotech, and Shields at Memorial Hospital. These include MRI studies of the joints and skeleton, as well as MRI of the abdomen and of the heart and chest.