Anatomy Team Presented Star Award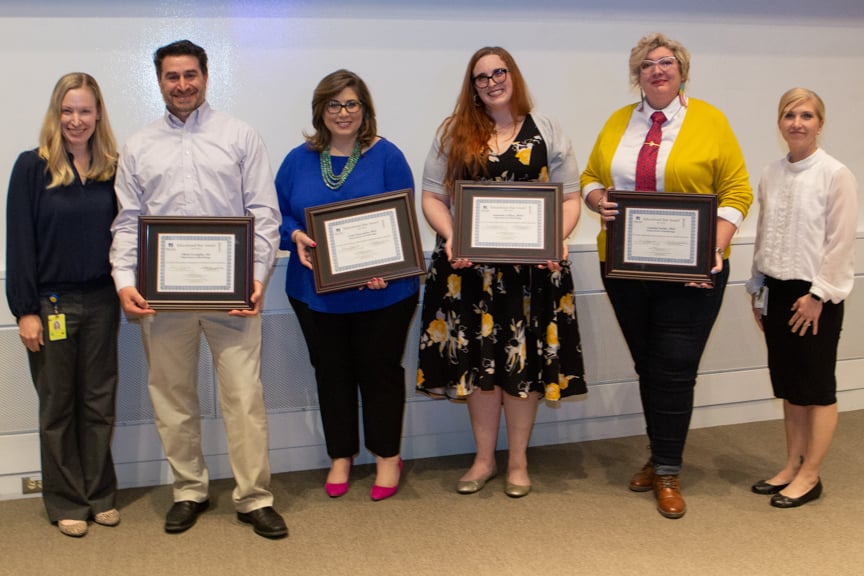 Educational Achievement (Star) Awards for outstanding Individual achievements in medical student education was presented to the Anatomy Team - Yasmin Carter PhD, Chris Cerniglia DO, Amanda Collins MPH, and Lela Giannaris PhD, during the UMass Chan Educational Recognition Awards ceremony on April 26, 2022.
The Star Award recognizes the new integration of Epic Electronic Healthcare Record Classroom (EHRC) into anatomy lab donor experience. Each anatomical donor is a patient in the EHRC and learners use EHRC to practice documentation and communication skills by adding a donors past medical and social history, documenting pathologies and anatomic variations, and communicating information to their team about each dissection lab as encounter notes. The faculty team conceptualized and implemented the project preparing an instructional manual, compiling donor medical and social histories, assigning donors anonymized names and underscoring diversity and added complementary content to the Development Structure and Function course. This included two new simulation sessions in which learners examined CT scans of their donors using a clinical viewer and documented their observations in the EHRC. These novel uses of the EHRC integrate anatomy, imaging and multiple areas of health systems science, emphasizing diversity.
Congratulations!