Page Menu
A Message from the Vice-Chair for Research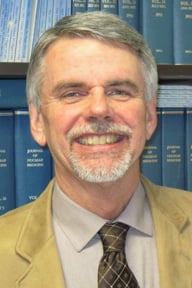 The mission of the investigators within our division is to play a significant role in transforming the way we obtain and utilize anatomical and functional information, thereby enabling earlier detection, better delineation, and improved treatment of disease.
The Research Division has experienced an unprecedented growth since 2003 as illustrated by a tripling in research space and a doubling in research funding. To our already internationally recognized research groups in Nuclear Medical and Mammographic Physics, and Biomarker Development, we have added outstanding research groups in the areas of Molecular Imaging, Interventional Neuroradiology, MRI and MR, and Radiological Physics. Our new Center for Innovative Imaging and Intervention houses the New England Center for Stroke Research, which is equipped with a Philips Allura Xper fd20, a single plane rotational x-ray system, the Advanced Magnetic Resonance Imaging Center, which is equipped with a Philips 3T Achieva MRI with multinuclear capabilities, and a Pre-clinical Imaging Facility equipped with a Philips Mosaic micro-PET and a Bioscan Nano SPECT/CT.
We hope you find the website informative. Please contact me, Ella Covello our administrator, or any of the faculty with questions.
Michael A. King, Ph.D., DABR
Professor and Vice-Chair for Research
Department of Radiology
Bringing Scientific Advances in Medical Imaging to Clinical Application
With six investigator-led research labs and four Centers for Research Excellence (CORE) labs, there is a tremendous depth and breadth of radiology research underway at the University of Massachusetts Medical School. It is work that is transforming the way we obtain and use anatomical and functional information to detect disease and improve treatment.
Under the aegis of the UMMS Department of Radiology's Division of Biomedical Imaging and Bioengineering, our radiology research program not only works closely with our UMass Memorial clinical colleagues, but also collaborates with scientists and clinicians in industry and at institutions around the world to develop cutting-edge imaging technology and techniques. Key departmental partners within the UMass Memorial Medical Center include the departments of: Psychiatry, Neurology, Breast Surgery, Oncology, and Transplantation.
Investigator-led Labs
Our research labs have earned international recognition for their work in these important areas:
Centers for Research Excellence (CORE)
CORE labs are built around significant research in specific areas with dedicated imaging systems as shared resources. Our CORE labs focus on:
Small Animal Imaging
Image-guided Surgery
Advanced MRI
Breast CT
Research Administration
Our administrative team is here to help with all aspects of radiology research, from grant strategies and preparation, to human resources issues and expense reports. Please contact:
Michael King, PhD
Professor and Vice Chair for Research
774-442-4255
Michael.King@massmed.edu
Ella Covello
Academic Administrator
508-856-6365
Ella.Covello@umassmed.edu
Kim Serra
Financial and Administrative Assistant
508-856-6126
Kim.Serra@umassmed.edu
The Division of Biomedical Imaging and Bioengineering is located at 55 Lake Avenue North, Room S2-843.