American Association of Clinical Anatomists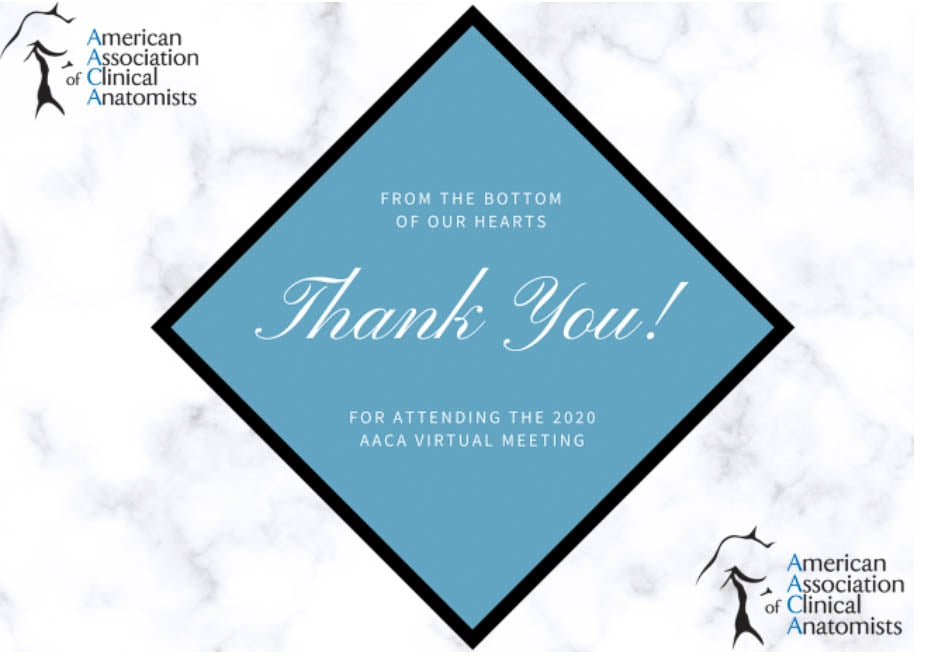 The Division of Translational Anatomy was well represented at the American Association of Clinical Anatomists (AACA) Annual Virtual Meeting 2020, June 15-19. The meeting was originally scheduled to be held at Weill Cornell in New York City but was moved to a virtual format because of COVID-19. UMass faculty presented seven papers, received awards, and were elected to several of the association committees. Yasmin Carter, PhD was selected as the Inaugural Chair for The Committee on Diversity, Equity, and Inclusion. Amanda Collins, MPH was the Anatomical Services Award winner for her paper authored with Dr. Carter titled "Veteran Body Donation Trends at UMass Chan Medical School." Amanda also was selected as the "Zoom Background Winner" for the meeting - a prize of a Starbucks gift basket. Meeting program (PDF)
Papers
Wink, Alexandra E., Google Image as a Resource in the Anatomy Laboratory.
Carter, Yasmin and E. Lela Giannaris. 'Boning Up': Self-Directed Osteology Lab Stations Support Learning in Time-Crunched Labs.
Giannaris, Eustathia Lela, and Erica Christenson. Not Your Average Flashcards: 'Images of the Day' for Practice Testing of Head and Neck Anatomy.
Carter, Yasmin. Creation of an Anatomically Accurate Model of the Deltoid for Pediatric Injection Training.
Collins, Amanda J. and Yasmin Carter. Veteran Body Donation Trends at UMass Chan Medical School. Anatomical Services Award Winner

Carter, Yasmin, and Amanda J. Collins. Injury Reporting in the Anatomy Lab.
Carter, Yasmin, and Amanda J. Collins. Anatomy Lab Safety: When Good Isn't Good Enough.
Awards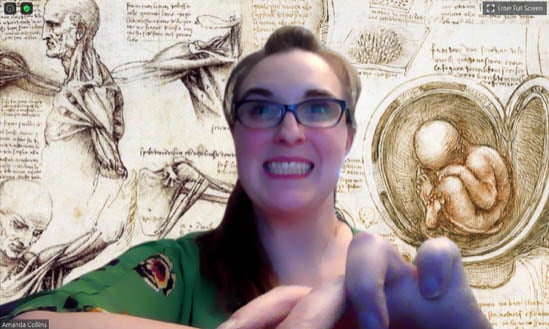 Anatomical Services Award Winner: "Veteran Body Donation Trends at UMASS Medical School" - Amanda Collins, MPH
AACA Zoom Background Winner Announcement: "During the 2020 AACA Virtual Business Meeting, we held a special contest for Zoom Backgrounds. We asked that each of you create a Zoom background and show it off at the 2020 AACA Virtual Annual Business Meeting! We were so delighted to see your work! As a reminder, the lucky winner had the option to choose a Starbucks gift basket or a $50 Starbucks gift card! So, who was this lucky person? *Insert drum roll here* The 2020 Virtual Meeting Bingo Winner is: Amanda Collins, University of Massachusetts Medical School. Amanda, your background was amazing! Your gift basket will be delivered this week! Congratulations!"
Committees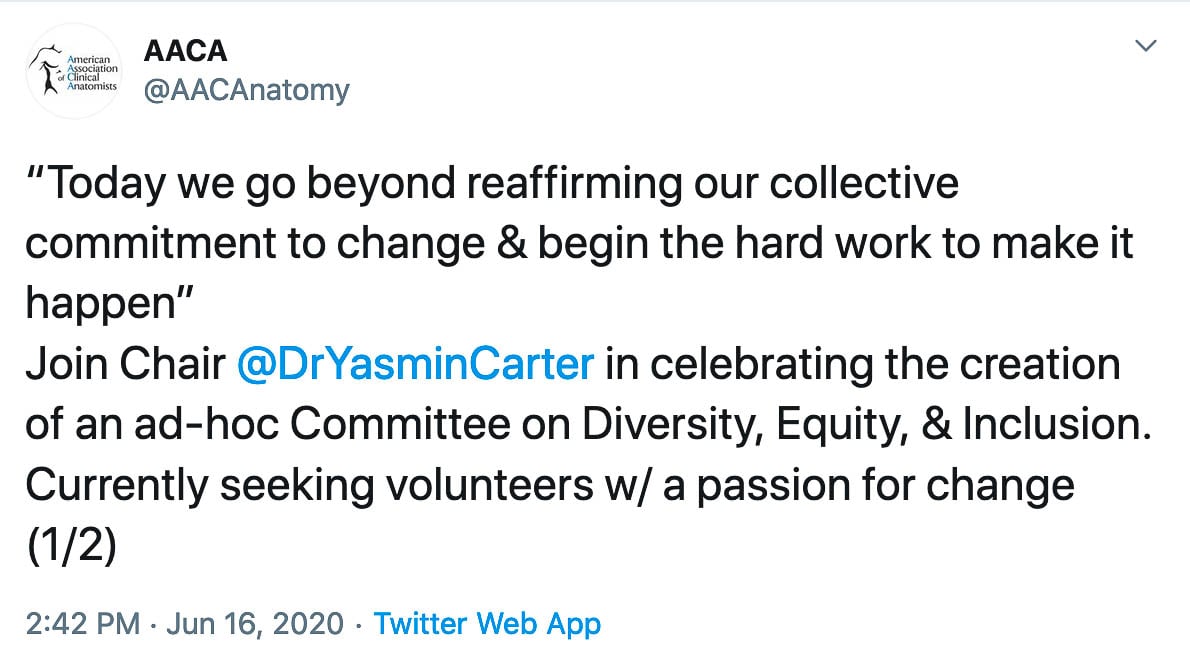 Yasmin Carter Inaugural Chair for The Committee on Diversity, Equity, and Inclusion
Amanda Collins, committee member
Alexandra Wink, accessibility subcommittee.
Educational Affairs Committee
Lela Giannaris, Presidential Appointees - 2019-2022
Meeting Organization & Program Planning (MOPP) Committee
Yasmin Carter, 2020-2021 Meeting Manager
Anatomical Services Committee
Amanda Collins, Member-at-Large
Clinical Anatomical Terminology Committee
Alexandra Wink, Member-at-Large