Faculty Advisors for Medical Student Summer Programs
This was another productive summer as department faculty engaged remotely with nearly 20 students in multiple programs, including the Summer Anatomy Enrichment Program (SAEP) / Summer Prosection Program (SPP) in the Division of Translational Anatomy, as well as the Research and Curriculum Exploration Summer Program (RCE) and Clinical and Translational Research Pathway (CTRP), sponsored by the Office of Undergraduate Medical Education (OUME).
Summer Anatomy Enrichment Program (SAEP)
Prosection of anatomical donors is usually the main component of the SAEP; however, due to the COVID pandemic, all students in the program completed virtual projects instead. SAEP/SPP Director Dr. Lela Giannaris, together with anatomy faculty members Dr. Alexandra Wink and Amanda Collins, MPH, worked with 13 rising second-year medical students to create a number of educational resources. Listed below are the projects and the students who worked on them.
Virtual practice practical (online lab exam) for each region of the body: Rebecca Chernick, Katrina Gerhard, Chloe Young
LABstracts and Lab packets for each anatomy lab session: Christopher Boussy, Danielle Coderre, Scott Ewy, Gabriella Paquette, Deirbhile Martin
Database of USMLE-type anatomy-based practice questions: Cindy Le, Paige Mastalerz
Video of student perspectives on lab experience: Moriah Alten-Flagg, Christopher Boussy, Deirbhile Martin
Functional Anatomy videos for MSK: Moriah Alten-Flagg, Deirbhile Martin
Expanded collection of Anatomy Images of the Day (IODs): Hyunji Do, Cameron Fattahi
Development of "screens" in the Complete Anatomy app: Hyunji Do, Cameron Fattahi, Gabrielle Paquette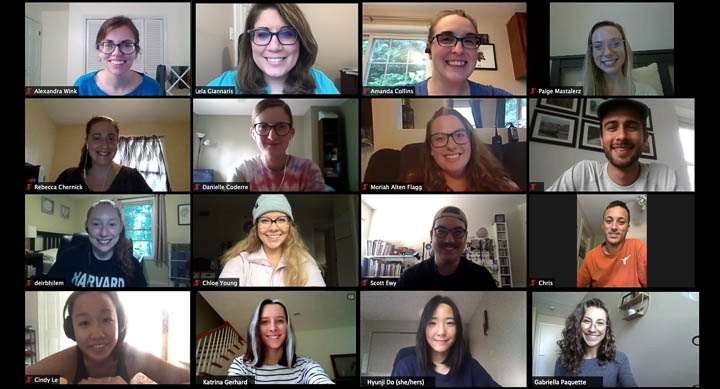 The OUME sponsored programs participated in virtual poster session.
Research and Curriculum Exploration Summer Program (RCE)
Assessment of the need for educational materials for allied health professionals in the anatomy of post-surgical gender affirmation interventions (Theo Eldore, faculty advisor: Dr. Yasmin Carter)
Development of Active Learning Workbooks for First-Year Musculoskeletal Anatomy (Manon de Villemejane, faculty advisor: Dr. Lela Giannaris)
Expansion of the DSF Course Resource Library with Radiology 'Images of the Day' (Emily Sheehy, faculty advisor: Dr. Chris Cerniglia)
Identifying the Need and Feasibility of Creating a 3D Printed Female Pelvis Model (Victoria Powell, faculty advisor: Dr. Yasmin Carter)
Clinical and Translational Research Pathway (CTRP)
Utilization of robotic surgery video as a tool for medical student anatomy education (Benjamin Palleiko, faculty advisors: Dr. Mark Maxfield and Dr. Lela Giannaris)