Recognizing Kalyn Dhroso, PA-C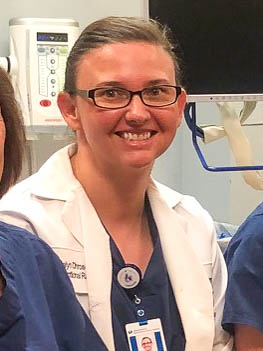 28 April 2020
Dear Colleagues,
T​onight I would like to send this quick Email to recognize one our team members at Clinton Health Alliance UMass Memorial Hospitals during these challenging times: Kalyn Dhroso, PA-C, Interventional Radiology.
After several years as a member of the Radiology Department at UMass Memorial University Hospital, Kalyn joined our UMass Radiology Team at HA on September first, 2019.
Kalyn has been instrumental in coordinating patient care at Health Alliance, protocolling and scheduling our radiology interventional cases at Health Alliance with the Department of Surgery, Nursing/PACU, Hospital Medicine, Emergency Medicine, Pulmonary /ICU, Primary Care, and with our Cancer Center in Fitchburg.
In addition Kalyn has been a key player in helping implement and coordinate procedures by our Interventional Radiology section at Health Alliance, such as Spine Biopsies with our Neurointerventional spine Radiologist, Dr Francesco Massari, and placement of Hemodialysis Catheters and Nephrostomy tubes with our VIR specialist Dr Gerson.
This afternoon, Kalyn placed a critically needed PICC line on a ICU Covid Patient, then went to the surgical floor to check on a 17 year old with two pigtail catheters she placed yesterday draining an infected abdominal hematoma, (Pigtail catheter maintenance has been a long time and somewhat elusive goal at any radiology department I worked at, now a reality at HA).
After her long day at work, Kalyn went back home to her husband Dani and her two kids, daughter Aubree (5) and son Reece (2), see attached pictures.
Please help me recognize Kalyn.
Best,
Amin
Amin Chaoui, MD
Chief of Radiology, Health Alliance Hospital
More Praise
I join Amin in praising Kalyn for the excellent job offered at the Clinton Health Alliance UMass Memorial Hospital. Her support in planning and executing the minimally invasive spinal cases performed at HA, part of our new Interventional Radiology service offered in that facility, has been not only perfectly executed but absolutely crucial.
Thank you very much,
Francesco
Francesco Massari, MD
UMMHC, Interventional Radiology