Roberto Kutcher - AIRP Neuroradiology Best Case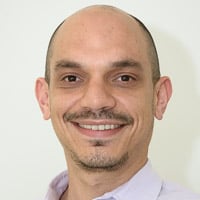 Radiology Resident Roberto Kutcher, MD attended the four week Radiologic Pathology Correlation Course hosted by the American Institute for Radiologic Pathology (AIRP), February 10-March 7. Dr. Kutcher won the award Neuroradiology Best Case. Third year radiology residents from programs around the country traditionally attend the course, held five times a year in Silver Springs, Maryland. In order to attend, residents submit a case with radiographic and pathologic images in order to demonstrate the concordance between radiology and pathology. Cases are then added to the AIRP archives. A case from each category (MSK, GI, Neuro, Chest) is awarded as best case at each course.
Dr. Kutcher stated "I was fortunate to be awarded Neuroradiology Best Case during the February-March session. Eric Evan-Browning, MD, a third year Pathology Resident, assisted me in the case. I owe him a great debt for his excellent preparation of the pathology specimen."
The Four Week Radiologic Pathology Correlation Course presents a comprehensive review of radiologic imaging with emphasis on the principles of radiologic-pathologic correlation. Approximately 95 percent of U.S. radiology residents attend the course at some point during their training. Additionally, a large number of radiology residents and fellows from Canada, Spain, Switzerland, the Netherlands, Asia and South America regularly attend the course.