Letter from the Chair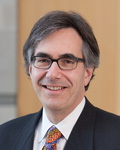 Dear All,
Welcome to our latest edition of RadNews, from the middle of our COVID-19 response. I know this has been an incredibly stressful time for everyone and I hope that you, your family, friends and colleagues are doing well, given the circumstances.
This month's issue features several COVID related articles but also continues to showcase the ongoing work of our Department in advancing the clinical care, education and research missions of UMass. A common theme through all of these articles is how so many of you have found ways to go "above and beyond" each day. These efforts range from staying late to care for a pediatric patient so they don't have to wait in the ER, supporting each other during the COVID response, making masks for home use and sharing individual health care experiences so that medical students and other caregivers can learn what it's like to be an oncology patient during COVID from a medical school faculty member who receives her oncology care at UMass.
Locally and nationally our faculty and trainees continued to receive recognition for their accomplishments, including a special "shout out" to Navid Zeraatkar, PhD for being selected as one of 30 top early careers professional by the Society of Nuclear Medicine and Molecular Imaging.
Although it seems like a long time ago, we also profile the five medical students who matched to our residency program this past March and will start their Radiology training at UMass in July 2021.
Be well, stay safe and please let me know if there's anything that I or the Department can do for you.
Best,
Max