Thea Nolan Honored by AAPA
Published Online by the American Association of Physician Associates
Interventional Radiology PA Thea Nolan's Advocacy on Behalf of Patients Led to a Nationwide Medical Device Recall
When People Aren't Listening, Nolan Says, Speak Louder
October 11, 2022
By Sarah Blugis
When Thea Nolan, MPAS, PA-C, finished PA school, she knew without a doubt that she wanted to do something surgical. So she took a job placing peripherally inserted central catheters, also known as PICC lines, at the bedside – an experience that allowed her the opportunity to work with patients and keep them comfortable during an invasive procedure.
"While [that job] wasn't what I expected, it was an important step in getting to my current position. There is a huge difference between performing a procedure on a patient who is under anesthesia compared to the procedures I was performing on a patient who is awake and very aware of their surroundings," Nolan says. "It teaches you how to perform a highly technical and sometimes stressful procedure, while simultaneously keeping your composure and talking to the patient throughout in order to keep them calm for the procedure and confident in your abilities. These are skills I utilize to this day in my current position."
Finding the Way to Her Dream Job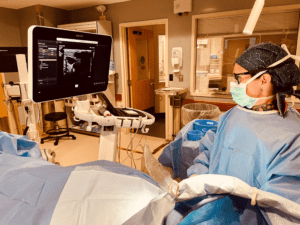 A year into her first job out of school, a colleague suggested that Nolan try working in cardiac surgery. For two years, she split her time between cardiac surgery and the PICC department. While she enjoyed cardiac surgery, it didn't afford her the work-life balance she was looking for.
"Every experience has helped shape me into the provider I am today," Nolan says, but emphasizes that knowing when to move on to the next challenge is just as important as knowing when something is the right fit for your personal and professional goals. "Although cardiac surgery and critical care was not the right position for me at that time, it did provide additional exposure to procedures, only strengthening my desire to do more."
In 2015, she landed the "job of her dreams" – working at UMass Memorial Medical Center in interventional radiology (IR), where she combined her bedside procedural experience with the medical knowledge she gained from caring for critically ill cardiac surgery patients.
"Interventional radiology is really an incredible field," says Nolan. "It's one of the few specialties that touches on almost all other facets of medicine. When I was a PA student, I don't recall having much exposure to IR. Even when I was working as a PA, my encounters within interventional radiology were limited to the vascular procedures we couldn't perform at the bedside, necessitating help from our IR colleagues."
Despite her limited exposure to interventional radiology, Nolan knew it was the right specialty for her. Building on her prior experience, her days are spent performing procedures with imaging (ultrasound or fluoroscopic) guidance. A common aspect of day-to-day practice in interventional radiology is inserting implantable ports, a type