Welcome Harrington Hospital Radiology to UMMHC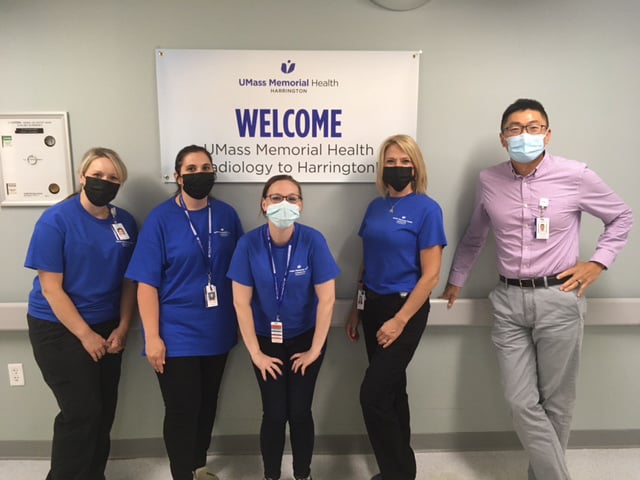 Radiology is the first UMass Health clinical department to start operations at Harrington Memorial Hospital. We're now providing comprehensive imaging services, including mammography & women's imaging, image-guided interventional services and all diagnostic radiology modalities.
Radiologic Technologists of UMass Memorial Health Harrington
The one word that exemplifies the radiologic technologists of UMASS MEMORIAL HEALTH HARRINGTON is teamwork. Workplace environment can be a tricky aspect to navigate in our unique profession, especially with a wide range of personalities, backgrounds, and experiences. Everything we do revolves around our patients, as we provide the utmost quality of care with compassion and understanding. Our radiologic technologists are friendly, team players, and have a passion for patient care, which is what our patients deserve. They entrust us with their physical ailments, and we provide quality imaging to direct them towards the right path for recovery. UMASS MEMORIAL HEALTH HARRINGTON has continued to show that management has your back, that they care about their employees, and it will continue to be a wonderful opportunity for any radiologic technologist in the field. We have a high retention rate, once technologists come to Harrington and feel our family and community vibe they want to stay and continue to be a part of our team.
We offer Diagnostic Imaging Services at three sites. These include the Main campus, Webster and Charlton. We offer outpatient Mammography, CT, MRI and Ultrasound appointments with weekend and evening availability across our campuses. X-Ray is available twenty-four hours per day/7 days per week at Webster and Harrington.
Our patients and employees can attest that being a part of the Harrington team makes you feel like you are working with family. We treat our patients as we would want our family to be treated and will make any accommodation that we can to help navigate their care.