UMass Memorial Service Awards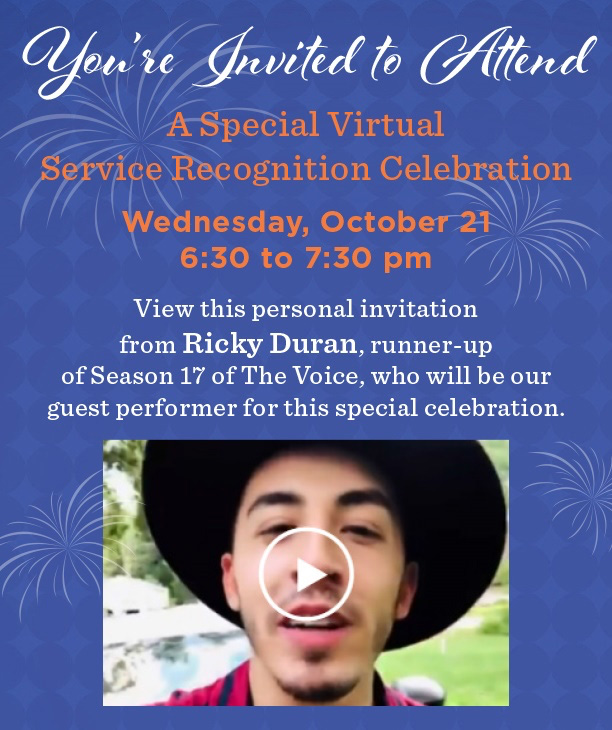 UMass Memorial Medical Center recently recognized seventy-three members of the Department of Radiology for their years of service to the organization. Five of these Radiology colleagues were honored for 40 years of service!
"Nearly 600 caregivers from across our system joined a very special celebration last night in honor of their milestone service anniversaries ranging from 15 to 50 years. As with everything, this annual service recognition event looked a little different this year, celebrated virtually instead of in person. The web-based event featured a retrospective historical video, tribute videos to our 50-year-service honorees, inspirational words from our President and CEO Eric Dickson, MD, and incredible performances by Grafton-born musician Ricky Duran, runner-up of Season 17 of The Voice."
Honored for 40 Years
| | | | |
| --- | --- | --- | --- |
| Marcia Amaral | Wendy Davis | Beth Richard | Lisa Towle |
Congratulations and thank you to our Radiology colleagues for their years of service to the patients, department and institution!
40 Years

Marcia

Amaral

Dir Radiology Ops

Radiology Admin

Wendy

Davis

Technologist, Rad II

Radiology Diagnostic

Brian

Patenaude

Technologist, Rad II-CT Scan

Cat Scan

Elizabeth

Richard

Technologist, Nuclear Medicine

Nuclear Medicine

Lisa

Towle

Technologist, Rad II-Mammo

Hahnemann Mammography

35 Years

Eleanor

Beshai

Ambulatory Svcs Rep

Hahnemann Mammography

Michele

Erikson

Registered Nurse, Hospital

Angiography

Robin

Gilbert-Newcomb

Technologist, Rad II

Radiology Diagnostic

John

Hagan

Technologist, Rad II-CT Scan

Cat Scan

30 Years

Stephen

Beaudoin

Dir Radiology Ops

Radiology Admin

Carol

Dowen

Registered Nurse, Hospital

Angiography

Ellen

Fleming

Ambulatory Svcs Rep

Radiology Clerical

Kathryn

Green

Sr Dir Radiology Svcs

Radiology Admin

Ronda

Lariviere

Technologist, Rad II-Mammo

Mammography

Robert

Licho, MD

Division Chief

Nuclear Med Admin

Anne

McKee

Ambulatory Svcs Rep

Radiology Clerical

Robert

McKinnon

Technologist, Rad II-CT Scan

Cat Scan

Annmarie

Montiverdi

Registered Nurse, Hospital

Angiography

Linda

Parsons

Registered Nurse, Hospital

Angiography

Deborah

Pellegrino

Lead Radiology Technologist

Radiology Diagnostic

25 Years

Theresa

Champoux

Ambulatory Svcs Rep

Mammography

Dianne

Degon

Ambulatory Svcs Rep

Radiology Clerical

Sarah

Lussier

Registered Nurse, Hospital

Neurointerventional Radiology

Jennifer

O'Loughlin

Technologist, Rad II-CT Scan

Cat Scan

Nancy

Rolland

Mammography Technologist

Mammography

20 Years

Kathy Jo

Beamenderfer

Registered Nurse, Hospital

Angiography

Bozena

Dzierzek

Med Secretary

Radiology Diagnostic

George

Gacheru-Kinuthia

Technologist, Rad II

Radiology Diagnostic

Karla

Grignon

CT Scan Technologist

Cat Scan

Deborah

Hall

Ambulatory Svcs Rep

Hahnemann Radiology

Tammy

L'Ecuyer

Technologist, Rad II

Radiology Diagnostic

Susan

Larrow

Technologist, Rad II-CT Scan

Cat Scan

Christy

Lebeau

Technologist, Rad II

Radiology Diagnostic

Michael

Prockett

Ultrasound Tech

Ultrasound

Pamela

Reilly

Registered Nurse, Hospital

Angiography

Deidre

Robinson

Ambulatory Svcs Rep

Mammography

Sonia

Torres

Radiology Assistant

Angiography

Christopher

Walker

Registered Nurse, Hospital

Angiography

Michelle

Watson

Technologist, Rad II-CT Scan

Cat Scan

Lisa

West

Technologist, Rad II-Mammo

Mammography

15 Years

Holly

Austin

Registered Nurse, Hospital

Angiography

Jesse

Biziewski

Technologist, Rad II

Radiology Diagnostic

Maureen

Brennan

Technologist, Rad II-Multimoda

Radiology Diagnostic

Matthew

Carey

Supv Radiology Svcs

Radiology Diagnostic

Janet

Champa

Lung Navigator

Radiology Diagnostic

Amy

Dee

Registered Nurse, Hospital

Angiography

Michele

Foley

Lead Radiology Technologist

Radiology Diagnostic

James

Frank

Lead Radiology Technologist

Neurointerventional Radiology

Jessica

Frank

Technologist, Rad II

Radiology Diagnostic

Erin

Gerrard

Radiology Technologist

Radiology Diagnostic

Silvana

Isufi

Coord, Budget & Financial

Radiology Admin

Kristina

Johnson

Technologist, Ultrasound Reg

Ultrasound

Young

Kim, MD

Physician

Body Imaging & Interventional

Linda

Lopez

Ambulatory Svcs Rep

Radiology Clerical

Victoria

Lott

Technologist, Nuclear Medicine

Nuclear Medicine

Brenda

Martin

Technologist, Rad II-Angio

Angiography

Erin

Matkins

Technologist, Ultrasound Reg

Mammography

Danielle

McHugh

Supv CT & Radiology

Radiology Diagnostic

Sandra

McInnis

Technologist, Ultrasound Reg

Mammography

Angela

Mitchell

Technologist, Nuclear Medicine

Nuclear Medicine

Jerly

Oduro

Technologist, Rad II

Radiology Diagnostic

Margaret Susan

Olson

Technologist, Rad II-Mammo

Hahnemann Mammography

Angela

Panarelli

Technologist, Rad II

Radiology Diagnostic

Vincent

Prendergast

Nurse Practitioner

Vascular Interventional

Eric

Rasmussen

Technologist, Rad II

Radiology Diagnostic

Virginia

Rollins

Technologist, Rad II-Mammo

Mammography

Gretchen

Sharp

Technologist, Rad II

Radiology Diagnostic

Padmaja

Surapaneni, MD

Physician

Body Imaging & Interventional

Lisa

Tucker

Technologist, Rad II

Milford Diagnostic

Claudia

Twum

Technologist, Rad II

Radiology Diagnostic

Gopal

Vijayaraghavan, MD

Division Chief

Breast Imaging

Robin

West

Radiology Assistant

Mammography

Christopher

Woeller

Technologist, Rad II-CT Scan

Cat Scan