Raul Padron Immigrant Stories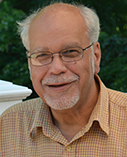 The Diversity & Inclusion Office and the International Committee relaunched the storytelling series "UMass Immigrant Stories: Everyone is Included in our Community" on Tuesday, Sept. 29, with Raúl Padrón, PhD, of UMass Chan Medical School, and Francis Wanjau, of UMass Memorial Health Care, sharing their stories over Zoom.
Dr. Padrón, professor of radiology, emigrated to Worcester from Venezuela in November 2018 to work with Roger Craig, PhD, professor of radiology. The two started collaborating in 1980 when they were postdoctoral fellows at the MRC Laboratory of Molecular Biology in Cambridge, U.K.
Padrón's great-grandparents emigrated to Venezuela from France and his grandparents emigrated to Venezuela from Italy to escape World War II. Padrón made the difficult decision to leave his country because of inflation rates. After showing beautiful scenes in Venezuela, including the tropical forests where the tarantulas he studies live, Padrón shared a slide that showed inflation rates in Venezuela reached 165,382 percent on Feb. 26, 2019.
"At the beginning of 2018 the inflation was about 10,000 percent and there was a lack of a food, lack of medicine—hospitals—and life was very complicated because there were difficulties for electricity, petrol, security, etc.," Padrón said.