98 Year Old Stroke Patient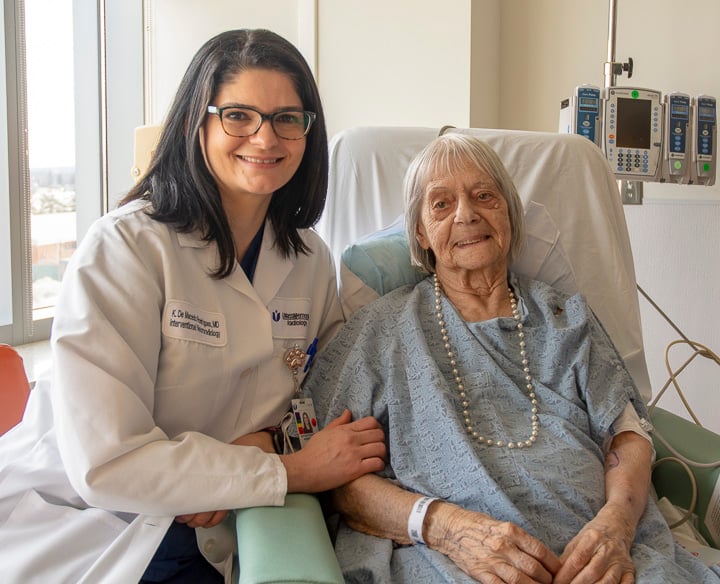 The Interventional Neuroradiology team had the unique opportunity to treat a 98 year old stroke patient. The team led by Dr. Kayucia de Macedo Rodrigues with assistance from Dr. Anna Kuhn were able to discharge this patient after their treatment with a NIH stroke scale of 0 (normal). This was only the second patient of this age that has been treated by the INR Division.
The National Institutes of Health Stroke Scale, or NIH Stroke Scale (NIHSS) is a tool used by healthcare providers to objectively quantify the impairment caused by a stroke. The NIHSS is composed of 11 items, each of which scores a specific ability between a 0 and 4.
On the morning of February 16th, Mrs. Tebo (98-year-old) was found by the staff of her nursing home with right sided hemiplegia and aphasia. Suspecting a stroke, they called EMS and she was then brought to UMass. Here, she was evaluated by the Emergency department and Stroke Neurology teams. Her NIH stroke scale was 17, consistent with a moderate to severe stroke. She underwent a head CT, CT angiogram and CT perfusion that showed a complete left MCA occlusion with the entire left MCA territory at risk. At this point, she was taken to the angiography suite by the Neurointerventional Radiology team lead by Dr. de Macedo Rodrigues. They performed a mechanical thrombectomy with removal of the clot and complete recanalization of her left MCA. Within less than 2 hours from arriving at UMass, Mrs. Tebo had complete restoration of the blood flow to her brain. She went on to make a full recovery! Her stroke scale at discharge was 0 (normal).

Many people from several departments assisted with this patient's amazing recovery; Radiology, Anesthesiology, Emergency, Stroke Neurology and Neuro Critical care.
Thanks to this group for their efforts to successfully treat Mrs. Tebo:
NIR attending: Dr. Katyucia de Macedo Rodrigues
NIR fellow: Dr. Anna Kuhn
NIR tech: Joshua Clark
NIR nurse: Linda Parsons
Anesthesiologist: Dr. Jason D. Vandoros
CRNA: Jeffrey Winacoo
Neurology attending: Dr. Adalia Jun-O'Connell
Neurology fellow: Dr. Muhammad Azeem
Neurology resident: Dr. Kiandokht Keyhanian
ED attending: Dr. Albert Conicella
ED resident: Dr. Nathaniel Oz