Faculty Collobarative Lectures in Israel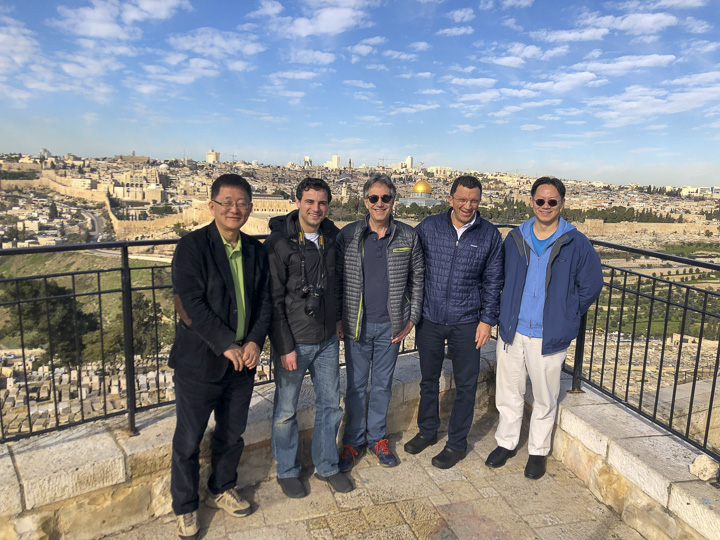 Five of our faculty members attended the "UMass Radiology – Ashdod Medical Center/Ben Gurion University Collaboration Lecture", held in Ashdod, Israel from February 5-7, 2020. Dr. Max Rosen, Dr. Young Kim, Dr. Jean- Marc Gauguet, Dr. Andrew Chen, and Dr. Mark Masciocchi gave 13 lectures over 3 days. About 60 residents from all over Israel attended the workshop.

Dr. Rosen co-organized the event with Dr. Eyal Morag, Chairman of Radiology at Ashdod Medical Center. Dr. Morag remarked, "The MR (and pediatric) workshop was a huge success and our residents very much appreciated all the lectures given by UMass faculty. I am looking forward to our continued cooperation"

Before the conference, teaching faculty enjoyed exploring the biblical cities of Jerusalem and Masada, as well as the Dead Sea. On February 4th, faculty visited Ben Gurion University Medical School and Hospital in Beer-Sheva to explore a medical student exchange program. After the conference ended each day around 3 PM on February 5th and 6th, faculty visited companies in Tel-Aviv including Aspect Imaging, an MRI manufacturing company specialized in neonatal MRI, and AIDOC, a leading radiology artificial intelligence company, to explore possible industrial and academic collaboration.

Dr. Young Kim said: "Everything was exquisite from the moment we arrived in Jerusalem until last moment. Visiting historical sites was absolutely fantastic. Food was delicious. I already miss fresh vegetables (tomato!) and fish!! I enjoyed the time interacting with residents who are eager to learn. I am privileged and honored to be part of the lecture teams. Thank you Max and Eyal for organizing the events and thank you Eyal for your warmest hospitality!"
​Dr. Jean-Marc Gauguet said: "Our visit to Israel was an amazing experience and a privilege. The opportunity to teach Israeli radiology residents, many of whom traveled an hour or more to attend our lecture series, is a reminder of the importance of our role as teachers and educators and value of resident education. Seeing first hand the innovative and entrepreneurial spirit of Israeli companies working on artificial intelligence and NICU MRI machines was very rewarding. The amazing food and the beautiful historic sites we visited were a wonderful bonus to the trip. I anticipate great future opportunities for UMass Radiology and our colleagues and friends in Israel."
Dr. Andrew Chen said: "It was an honor and privilege to meet the hard working radiologists of Israel. The enthusiasm of the residents to learn and interact with the faculty was refreshing. It was a humbling experience to see how hard the faculty are working under the Israeli medical system. Many are working 2-3 jobs in addition to entrepreneurial projects such as virtual/augmented reality and robotics. The energy and innovative work that we saw in such a small country from artificial intelligence to portable MRIs is a reminder of how far we have come and how wide open the field of radiology can grow. I look forward to future friendships and collaboration with our colleagues in Israel."
Dr. Mark Masciocchi said: "In just a short time in Israel we saw such different and fascinating places across a small country. From the old city of Jerusalem we traveled down into the desert to see Masada and the Dead Sea, then to the coast where modern Tel Aviv sits right next to eternal Jaffa. I was overwhelmed by the hospitality of ours hosts and for the privilege to teach residents abroad. I am most proud of helping to build relationships between far apart institutions, fostering an exchange that will benefit my colleagues and future trainees for years to come."


Dr. Max Rosen concludes: "It was great pleasure to support my old friend (and one of my first residents, Eyal Morag) and have an opportunity to travel with Young, Mrs. Kim, Jean-Marc, Mark, and Andrew. The course was extremely well attended and received. Initially, the course was intended for Eyal's department, and a few other small programs. When all the larger programs heard about the course, they all called Eyal - very upset that they were not invited. From the trip I learned the secret to running a successful course in Israel: Don't invite anyone, and you will pack the lectures."