Letter from the Chair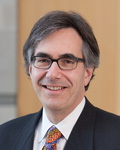 Dear All,
Although Charlene had this month's newsletter "ready to go" for two weeks, I was delayed in writing my introduction. Needless to say, our department, hospital and community are very different now than anyone would have imagined even two weeks ago. As we ramp up to fight the COVID outbreak, I have been so impressed with our department's response, teamwork and caring. During the past few days we have been able to put systems in place to rapidly triage patients to the most appropriate urgent imaging (or prudent delay in routine imaging) and make changes in work schedules and locations to keep our social distance. Most importantly, everyone has come together as a team to help take care of each other. From offering laptops to colleagues who needed one in order to be able to work from home, to daily "check-ins" for those of us who live alone, volunteeing to work for others whose health conditions place them at increased risk, and offering to work evening or night shifts to accommodate the changing clinical demands - I have been so impressed, and proud to be part of this department.
I hope this month's newsletter provides a few minutes of diversion from the urgencies of our new challenges.
I am meeting frequently with our administrative teams and division chiefs to help coordinate our efforts between UMMS, UMMMG and UMMMC and participate in the morning and evening COVID Command Center briefings.
Please let me know if you have any questions, concerns, or just want to "check-in".
Take care.
Max