Letter from the Chair
Dear All,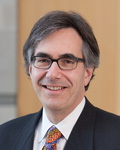 Welcome to our Radiology newsletter for fall 2018 (and MLB post-season).
This month's issue showcases our department's diverse activities, here in central Massachusetts and around the world. We feature articles on Dr. Nina Baram - our first visiting faculty member from our exchange with Assuta Medical Center in Ashdod, Israel; Dr. Murugan's research elective in China - organized by Dr. Young Kim; updates on our UMMS Radiology Interest Group; and Dr. Abayazeed's mentoring of Annie Flanagan – a junior at Milford High School.
We also feature Dr. Scott Britz-Cunningham's "dual" career as Nuclear Medicine MD by day and published author of medical thrillers by night - you can purchase his books on Amazon; as well as updates on a wide-range of grants, publications, new faculty members, conferences - Dr. McIntosh's innovative Cancer Conference; promotions and national honors - Dr. George Witman was elected as a fellow of the American Society for Cell Biology; and our new feature section "Cool IR Cases".
Thanks for everyone's efforts in helping our department become such an innovative dynamic and diverse community.
Enjoy!
Best,
Max