George Witman Honored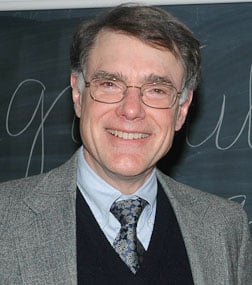 Fellow American Society for Cell Biology
George Witman, PhD, the George F. Booth Chair in Basic Sciences, has been selected as a Fellow of the American Society for Cell Biology. Election as a Fellow of ASCB is an honor bestowed upon ASCB members by their peers. It is life-time recognition of meritorious efforts to advance cell biology and/or its applications, work in service to the Society and ongoing loyalty to ASCB. Fellows serve as a think tank for ASCB white papers. Dr. Witman will receive a plaque and the Rosette pin and will be acknowledged before the Keynote Presentation at the 2018 ASCB Annual Meeting San Diego, CA on December 8. Dr. Witman will also be honored at a President's Reception on Sunday, December 9, in San Diego. Congratulations George Witman, PhD, FASCB!
Keynote Speaker - EMBO Workshop
George Witman, PhD, was invited to present the Keynote Address at the EMBO Workshop – Cilia 2018, on October 2, 2018 in Copenhagen, Denmark. Dr. Witman's talk is titled Cilia and Disease.
EMBO, European Molecular Biology Organization, stands for excellence in the life sciences. EMBO is an organization of more than 1800 leading researchers that promotes excellence in the life sciences. The major goals of the organization are to support talented researchers at all stages of their careers, stimulate the exchange of scientific information, and help build a European research environment where scientists can achieve their best work.