New Grant - Transmission Electron Microscope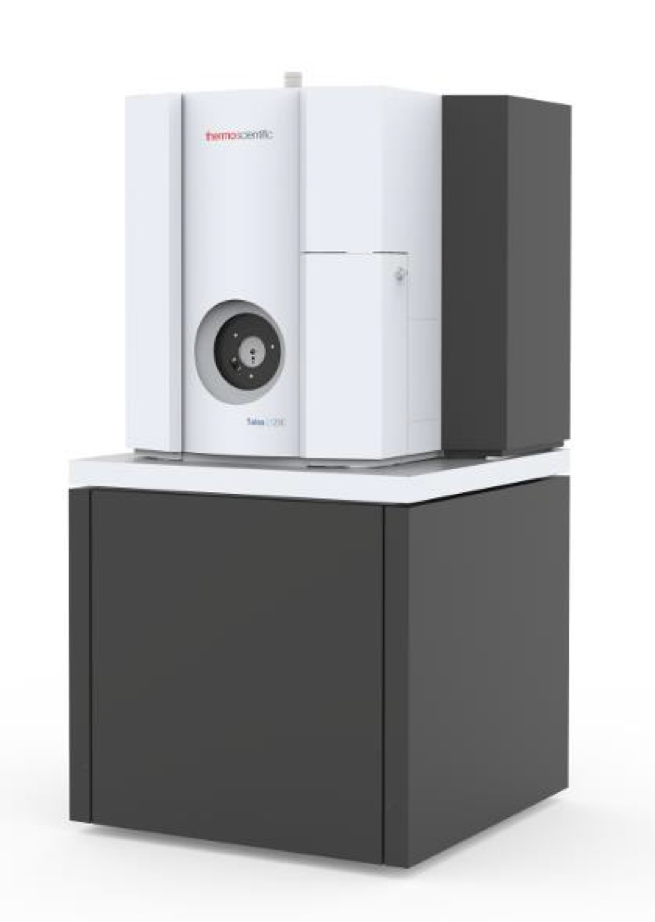 The Electron Microscopy Core Center recently received NIH funding for a Talos L120C G2, a 120 kV Transmission Electron Microscope, uniquely designed for performance across a wide range of applications, such as 2D and 3D imaging of cells, cell organelles, single particle specimens and soft materials, both at ambient and cryogenic (liquid-nitrogen) temperatures. The system's Constant-Power™ C-TWIN lens delivers outstanding optical performance (the same lens system that the ultra High-end Titan Krios uses) to help ensure an optimal balance of contrast and resolution at both moderate and high magnifications.
The new Talos L120C G2 is a fully digital microscope, which incorporates a new digital search-and-view camera (Ceta 16-megapixel digital CMOS camera system) allowing ultra-fast scan imaging (up to 40 frames per second), designed for imaging and micro-diffraction applications. This high-speed digital camera gives users the freedom to operate the microscope under daylight conditions.
The vacuum system of the Talos is completely oil-free; comprising a membrane pump, a turbo-molecular pump; and two ion getter pumps. An automatic vacuum valve between the gun and the column is present to allow the gun vacuum to remain functional at all times, thus the emitter and gun accelerating voltage can remain on even during sample exchange. Other features of the vacuum system are IGP-only pumping during normal microscope work (eliminating vibrations due to the turbo-molecular pump), efficient airlock pumping, and liquid nitrogen cooled Automatic CryoBox shields protecting cryo-specimens from residual water vapor in the microscope allowing high sample throughput, e.g. for screening purposes.
Our new Talos will also come with the complete Thermo Fisher Scientific /FEI suite of Tomographic software, allowing seamless collection of Tilt series (to ± 70o), at ambient and cryogenic temperatures. The acquisition of data utilizing the Talos user interface and embedded detectors can be automated for certain acquisition processes, such as TEM/STEM tomography and single particle data acquisition. Because of this sophisticated computer system, the Talos is especially suited for multi-user and multi-discipline environments.
On-site applications training will be fully customized to our user needs and will be delivered in secessions of two (2) to three (3) consecutive days for our major and minor user groups. This training will be provided by the Thermo Fisher Scientific /FEI NanoPort team and be arrange following initial installation and certification.
Gregory Hendricks, PhD
Director Core Electron Microscopy Facility