Breast Center of Excellence
Date Posted: Friday, July 15, 2016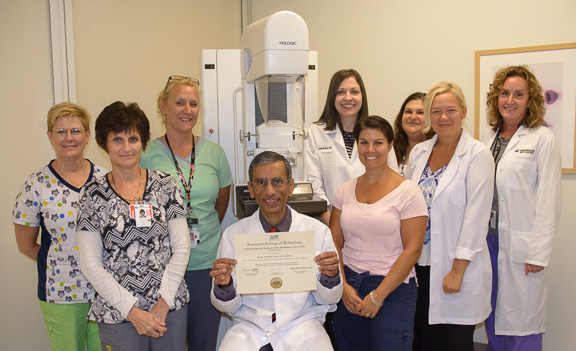 Posing with the Breast Imaging Center of Excellence certificate are: (from left to right)
Lisa Towle, Kelli Mishra, Donna Cormier, Dr. Gopal Vijayaraghavan, Erin Matkins,
Dr. Jade Watkins, Leah Berthiaume, Dr. Monique Tyminski, and Ginny Rollins.

Vijayaraghavan Gopal, MD, Division Chief for Breast Imaging and Ginny Rollins, RTR(M), Mammography Supervisor are pleased to announce that the UMASS Memorial Medical Center Ambulatory Care Center, Memorial and Aurora facilities combined is designated a Breast Imaging Center of Excellence by the by American College of Radiology's Commission of Quality and Safety and the Commission of Breast Imaging. The facilities received their first Center of Excellence designation three years ago. Each site needs to be accredited by the ACR before applying to be designated a Center of Excellence. The center is accredited in Mammography, Sterotactic Breast Biopsy, Breast MRI, Breast Ultrasound and Ultrasound-Guided Breast Biopsy. The Shrewsbury mammography facility recently passed the ACR accreditation.
Breast Imaging is probably the only subspecialty in radiology that is under such strict scrutiny and each inspection and accreditation is a huge and arduous collective effort. Dr. Gopal thanked everyone for their effort and time to earn this accreditation and designation. "Ginny and your team; your hard work and dedication is praiseworthy."