Letter from the Chair
Date Posted: Tuesday, July 19, 2016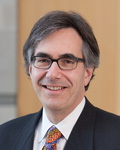 Welcome to our July issue of RadNews!

The late spring/early summer period has been extremely busy, from celebrations (dedication of our new "Sandra Costa" conference room, the annual Edward Smith lecture, completion of the Junior Faculty Development Program by three Radiology faculty and resident & fellow graduation) to welcome new residents and fellows, Dr. Young Kim's international symposium on Liver Cancer Imaging in Mongolia, presentations at national meetings, Breast Center of Excellence, new collaborative software to facilitate process improvement and an eclectic array of publications, and a planned foray into the world of virtual reality – we are all busy and thriving.
In addition, we also have our "regular" columns including: idea board, patient satisfaction survey and letters/feedback about faculty and staff making a difference in our patient's lives, and our latest EPIC update.
Enjoy the second half of the summer.
Best,
Max