Junior Faculty Development Program
Date Posted: Friday, July 15, 2016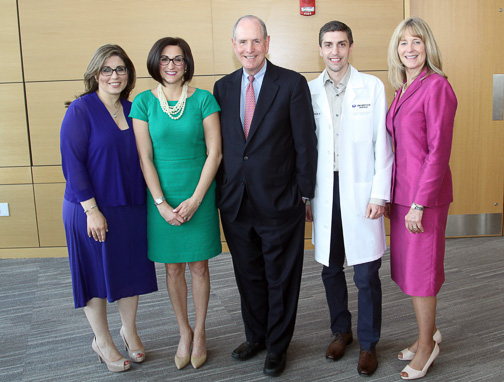 Radiology Junior Faculty Development Graduates. From left to right; Eustathia Lela Giannaris PhD, Carolynn DeBenedectis MD,
UMMS Chancellor Michael Collins MD, Eric Schmidlin MD and Vice Provost Luanne Thorndyke MD.
Three Faculty members from the Department of Radiology completed the UMMS Junior Faculty Development Program. Carolynn DeBenedectis, MD, Eustathia Lela Giannaris, PhD, and Eric Schmidlin, MD, were honored at a Graduation Ceremony on May 19th.
The UMMS Junior Faculty Development Program (JFDP) provides a foundation for the success of junior faculty at UMMS. The program is offered from September through May. The expected time commitment is four hours per week, including class time, preparation for sessions and work on projects.
The Radiology Graduates completed the following projects:
Carolynn DeBenedectis, MD, "Teaching radiology attendings effective communication skills through simulation in the setting of image guided procedures." Mentor Sarah McGee, MD, MPH.
Eustathia Lela Giannaris, PhD, "Comparison of 3D-printed models and 3D virtual models for understanding the functional neuroanatomy and vasculature relevant to stroke." Mentor Ed Boyer, MD, PhD.
Eric Schmidlin, MD, "Does patient positioning during CT-guided lung biopsy affect the rate of pneumothorax & chest tube placement." Mentor Gerard Aurigemma, MD.
The goals of the Junior Faculty Development Program are to:
Promote the development and advancement of faculty through a program targeted to and tailored to the specific needs of junior faculty.
Nurture and cultivate junior faculty to become the next generation of academic leaders.
Support the retention of faculty talent through opportunities and support to continuously build and expand professional skills.
The Program consists of two components:
A comprehensive curriculum in topics on research, education, clinical, and academic/career development.
A project conducted under the guidance of a senior faculty mentor. The individual project is identified by the participant, approved by their chair, and completed with the assistance of a mentor identified by the Program.
For more information visit UMass Chan News
Learn more about the program on the Junior Faculty Development website