Page Menu
Junior Faculty Development Program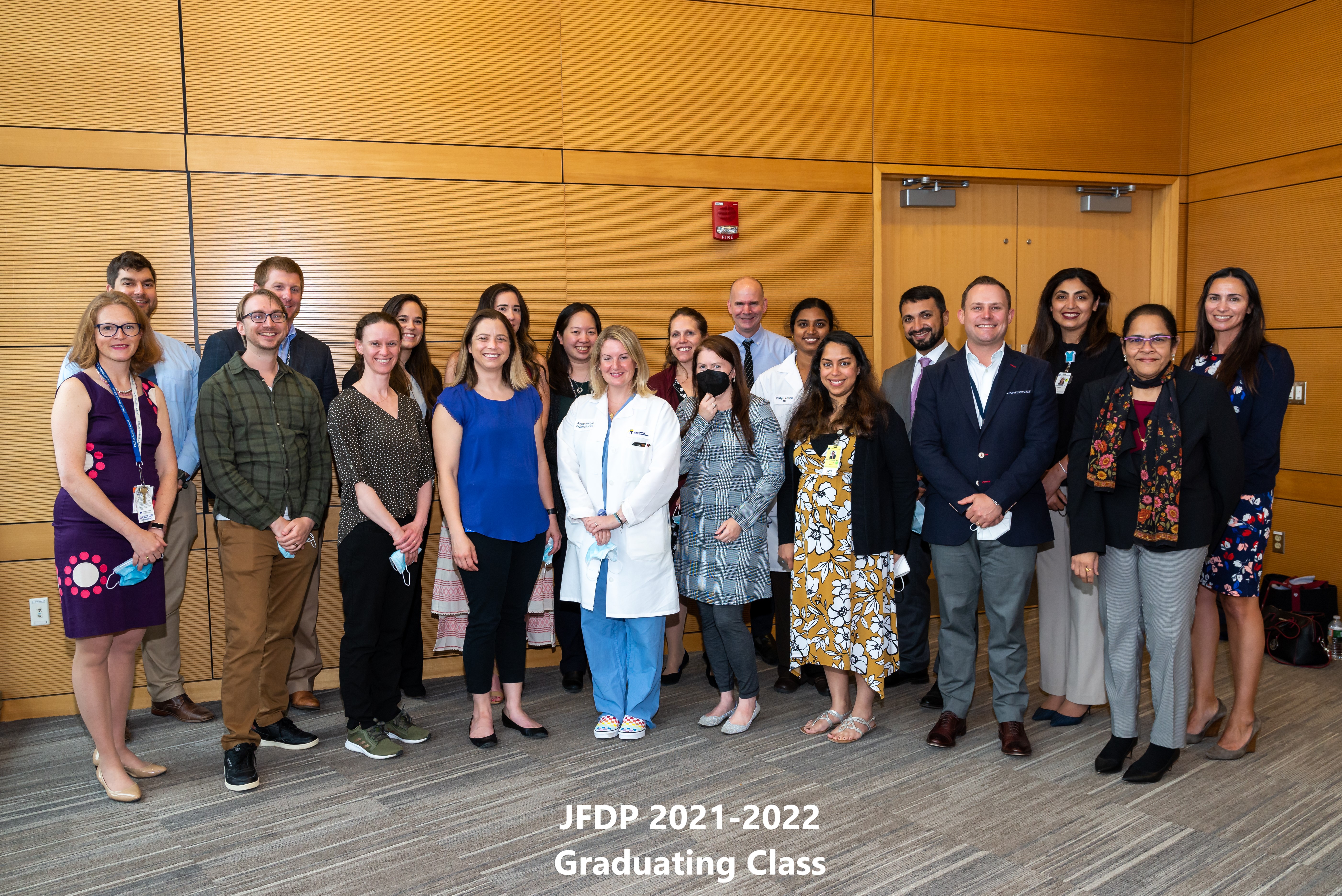 Junior faculty are an essential resource for an academic institution. If the institution is to grow and flourish, these individuals must be nurtured, mentored, and retained. Junior faculty are recruited with excellent training in research or clinical practice but they often lack the skills—beyond the ability to perform in the laboratory or the clinic—that are critical for a successful career in academic medicine. Furthermore, most junior faculty are expected to teach but many have little training in designing and delivering an educational program. The Junior Faculty Development Program (JFDP) is designed to address the needs of junior faculty and provide a foundation for their success.
The JFDP was first developed and implemented at Penn State College of Medicine in 2003. It was established at UMass Chan Medical School in 2010 under the sponsorship of the OFA. The program continues at Penn State and similar programs have since been established at Albany Medical Center and the University of Virginia. It is considered a national model for the development of junior faculty in academic medicine.
The goals of the JFDP are to
promote the development and advancement of faculty through a program targeted to and tailored to the specific needs of junior faculty
nurture and cultivate junior faculty to become the next generation of academic leaders
support the retention of native faculty talent through opportunities and support to continuously build and expand professional skills
The Program
The JFDP is an intensive, year-long faculty development program that consists of two components:
A comprehensive curriculum in topics on research, education, and academic/career development.
Download the 2021–22 JFDP curriculum as a representative example.
A project conducted under the guidance of a senior faculty mentor. The individual project is identified by the participant, approved by their chair, and completed with the assistance of a senior faculty mentor.
Each yearly program at UMass Chan Medical School consists of a cohort of 20–25 participants, typically Assistant Professors within 1–4 years of their first faculty appointment. Program participants are selected through an application process, which includes a description of their proposed project. Each participant is matched with a mentor identified by the participant with the help of the program faculty and based on their needs for guidance on their project.
To complete the program, participants have to attend at least 80% of the class sessions, participate in teaching workshops, and present progress on their project at the end of the program. A Graduation Ceremony is held each year to recognize the graduates for completing the program and the mentors for their service.
CME Accreditation Statement
The UMass Chan Medical School is accredited by the Accreditation Council for Continuing Education to provide continuing medical education for physicians.
Designation Statement
The UMass Chan Medical School designates this live activity for a maximum of 2 AMA PRA Category 1 Credits™. Physicians should claim only credit commensurate with the extent of their participation in the activity.
Nursing Accreditation
This offering meets the requirements for 2.4 contact hours for nurses as specified by the Massachusetts Board of Registration in nursing (244-CMR 5.04). Each nurse should claim only those hours of credit that he/she actually spent in the educational activity.
Application
Applications for the 2022-2023 JFDP are now open.
***Application deadline has been extended to June 19, 2022.***
Please email completed applications to JFDProgram@umassmed.edu.

Program sessions will be at 7:00–9:00 am, Thursdays, September 8, 2022 – May 18, 2023. We anticipate that the 2022–23 program will be delivered by virtual and/or in-person sessions, depending on the prevailing conditions for social distancing.
Download the application here.
Download expectations here.
Download a program description here.
Outcomes
A total of 278 junior faculty have participated since the program was established in 2010. Over 150 senior faculty served as mentors, many more than once.
Download a list of JFDP graduates, projects, and mentors.
JFDP participants at UMass Chan Medical School have a substantial record of achievements since completing the program, including:
over 500 publications
$35M in grant funding obtained by 33 graduates (2010–16)
a higher rate of retention at UMass Chan: 80% of JFDP graduates (2010–17) have remained at UMass Chan Medical School compared to 55% of all Assistant Professors for the same years
a higher rate of promotion: 65% of graduates in the first two classes (2010–12) have been promoted to Associate Professor compared to 30% for all Assistant Professors for the same years
appointment to leadership positions, including Dean, Department Chair, Division Chief, and Residency Director
Based on this evidence, the JFDP has achieved all the goals set for the program at its original foundation.
Scholarship
Empowering Junior Faculty: Penn State's Faculty Development and Mentoring Program.
Thorndyke LT, Gusic ME, George JH, Quillen DA & Milner RJ. Academic Medicine 81: 668–73 (2006). PubMed Link
Functional Mentoring: A Practical Approach with Multilevel Outcomes.
Thorndyke LT, Gusic ME & Milner RJ. Journal of Continuing Education in the Health Professions 28: 157–64 (2008). PubMed Link
The Essential Value of Projects in Faculty Development.
Gusic ME, Milner RJ, Tisdell EJ, Taylor EW, Quillen DA and Thorndyke LT. Academic Medicine 85: 1484–91 (2010). PubMed Link