Letter from the Chair
Dear All,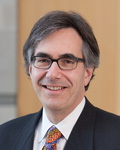 Welcome to mid-summer – including photos from our Graduation Dinner & Awards (Congratulations to Dr. Young Kim – Teacher of the Year and Dr. Dan Burritt – Jerry Balikian "Extra Mile" award winner). With the start of new academic year we welcome two new faculty : Dr. Tasneem Lalani and Dr. Alexandra Wink, and all of our new residents and fellows. We also highlight new process improvement and quality initiatives (Health Alliance daily huddle and the new Radiology Quality Dashboard), and numerous publications. Most importantly, however is the recognition our faculty and staff have received for their superb patient care.
Enjoy the rest of summer!
Best,
Max