Building Better Futures Student Intern Program
Date Posted: Monday, August 15, 2016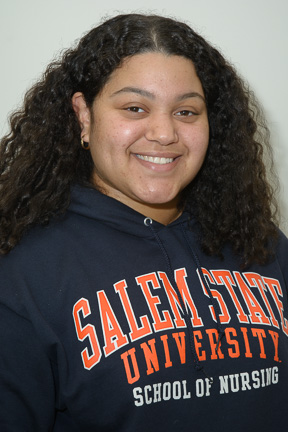 Contributed by Kathy Delongchamp,
Department of Radiology Fellowship Coordinator

I met Adanicole Rivera on Monday, 7/11/2016 at the luncheon they had for departments who were interested in hosting a high school student this summer through the Building Brighter Futures ("BBF") program. When I was there, the person who had Ada before me, came and told me what a great worker she is and that I will be very pleased with her. Ada has been helping me archive our fellowship folders to our RadAdminGroup shared drive from 1980 to 2009. She has completed the ones for Abdominal Imaging and Breast Imaging. I can finally fit my fingers in the drawers of the file cabinet (hooray). She is a very quiet person but she gets the job done. She likes to go to Six Flags and ride the fast rollercoasters. She has the patience of a saint, standing at the photocopier scanning all of those documents. Ada is going to Salem State College in September 2016 to study nursing. She is the first in her family to attend college. I was able to have her spend some time with the Resource Nurse in the Angiography suite (two days last week). She enjoys seeing the "blood and guts" on the medical shows on TV. Friday, 8/19/2016 will be her last day with us. I am hoping to get her some more time with the Resource Nurse in the Angiography suite on her last week with us. I am certain she will make a great nurse. It has been my pleasure to work with this lovely young lady. I hope that our paths cross in the not too distant future.
About Building Better Futures Program
UMass Chan Medical School participated again this year in the Worcester Public Schools Building Brighter Futures with Youth Program.
This is an effort of the Medical School to expand our community outreach by providing employment and learning opportunities for up to 25 Worcester High School juniors and seniors. Students are eligible to participate in this program by successfully passing their MCAS tests. The Office of Community & Government Relations and the Office of Diversity and Inclusion provides the funding for salaries paid to the high school students participating in this program.
The program seeks departments who are interested in taking one or more students and providing them with a meaningful work experience in administrative and other supportive service positions. Students work up to 25 hours a week for a period of six weeks during the summer. Work schedules are flexible, depending upon the needs of each department.
https://ournewsandviews.org/2016/07/15/through-teen-job-program-we-invest-in-community-local-youth/