Three Summer Students Intern in ER and AGP
Date Posted: Monday, August 15, 2016
Three college students were hired this summer through the UMass Memorial Student Employment program. Taylor Janulewiz, Sean Lammi and Nicole Whipple split their time working in the Emergency Radiology Reading Room and with the Anatomical Gift Program. In the ER the three answered phones, directed inquiries to the correct staff or department and freed up the Radiology staff to concentrate on clinical work. In the Anatomical Gift Office the summer hires helped organize donor files and add old files to the new donor database. Ruth Lopriore, Anatomical Gift Program Coordinator, stated "I am so grateful for the work Nicole, Taylor and Sean provided the Anatomical Gift Program during the 2016 Summer Intern Program. They have been a tremendous help to us!"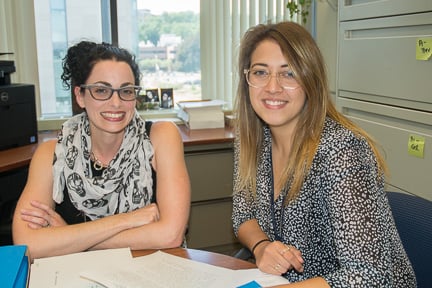 Ruth Lopriore, Anatomical Gift Program Coordinator with summer intern Taylor Janulewiz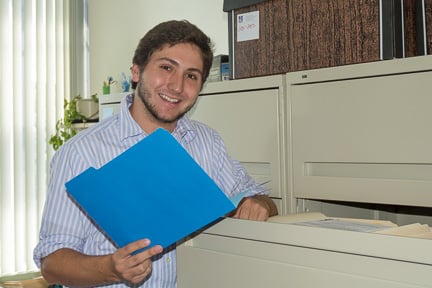 Summer Intern, Sean Lammi assisted with updating the AGP database.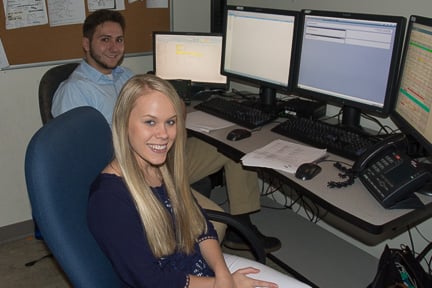 Summer Interns Nicole Whipple and Sean Lammi control the phones and computers
in the Radiology ER Reading Room
Taylor Janulewiz will attend the Massachusetts College of Pharmacy and Health Sciences in the sonography program, general track this fall. She is from the Worcester Country area, and found out about this internship from the careers website for UMass Memorial. She likes that she is a part of two different programs at UMass Memorial and meets so many people. She enjoys the exposure to what it is like in the office and emergency room environments. Taylor's future goals are to be an ultrasound technician and to launch her own jewelry line. In her free time she likes to be with family and friends. She enjoys reading and spending much of her time outside with her dog enjoying this beautiful place we all live in!
Sean Lammi is starting his senior year at Providence College where he is majoring in Marketing. He has lived in Spencer, Massachusetts for his whole life. He found out about the intern program from his mother who currently works at UMass Memorial and she put me in contact with the Radiology Department. He enjoys the independent nature of the job and has learned many daily office skills. After graduating college, Sean hopes to find a career in television advertising. In his free time he enjoys playing sports, mostly soccer, playing with his dogs and hanging out with friends.
Nicole Whipple recently graduated from Worcester State University with a major in biology and a minor in chemistry. She is from Worcester, Massachusetts and found out about the intern program through the UMass careers website. During this program Nicole says she has "met wonderful people, who have given me the opportunity to work on individual projects that have inspired my future career ideas." Nicole has been able to try to create an ultrasound gel, an addition to an ultrasound device, and other data related projects. Through these projects on top of working with the anatomical gift program, and in the emergency room reading room, she has thoroughly enjoyed her time and what she has learned from UMass this summer. Nicole's goals for the future are to start her career in a biological based field either working in an environmental health setting or in research. In her free time Nicole likes to stay busy by visiting family, exploring new places, and reading.