Doreen Borezo Accepts New Position
Date Posted: Monday, August 15, 2016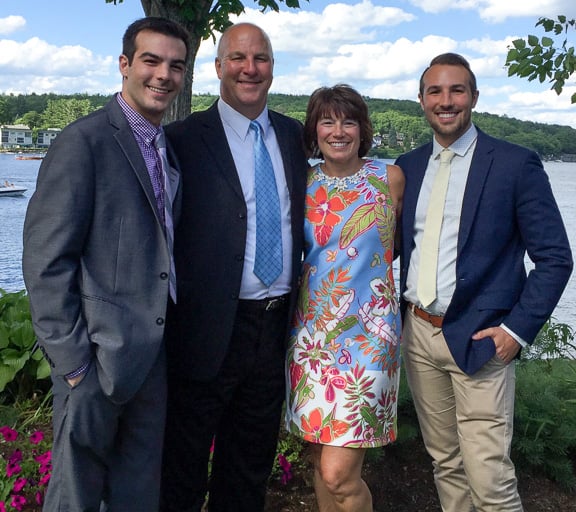 Doreen and her family, from left to right: her youngest
son Bryan (23 years), husband Mark Borezo, (married 31 years),
Doreen, and oldest son Daniel (26 years).
Doreen Borezo, the Department of Radiology's Finance Coordinator, has accepted the position of Financial Administrator for the newly formed Administrative Service Group which is comprised of the Department Emergency Medicine, Anesthesiology and Perioperative Medicine. She will report directly to Sharyn DeMango, the Chief Administrator Officer (CAO)/Associate Vice President. The position provides confidential financial support for the CAO, helping develop finance plans and budgets and tracking actual expenditures. The position is primarily responsible for all organization fiscal record keeping for both Departments.

Doreen will also be working closely with Dr's. Shubjeet Kaur, Chair of Anesthesiology & Perioperative Medicine and Gregory Volturo, Chair of Emergency Medicine.

This was a tough decision for Doreen because she has called Radiology her home for 12 years and she can honestly say there was never a dull moment. The department reminds her of New England weather.. wait a day, an hour, or a minute and something will change.

Even though she is transferring to another department Doreen will literally only be steps away from Radiology and will still have working relationships with some of us, which makes us all happy. We will miss her and her smile and the wealth of knowledge that could always be tapped.
On August 2nd the department hosted a Farewell Reception to allow Doreen's Radiology Family to bid her thank you for her many years of service, smiles, expertise and best wishes in her new position.