Page Menu
Banking Services
UMassFIVE College Federal Credit Union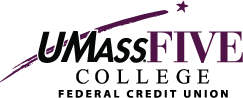 As a credit union, UMassFIVE College Federal Credit Union returns all profits to members, in the form of lower fees, better rates, and improved services. UMassFive staff work to customize solutions that support strong financial decisions for members, in a variety of unique situations.
Products include:
Savings
Checking
Loans
Online & Remote Services
Co-Op Rewards
Retirement Planning and Investments
Financial Tools like Calculators and Seminars
Onsite and Surcharge-Free ATMs at Various Locations
Onsite ATMs
You can find onsite ATMs at these locations:
Main Campus: UMassFIVE College Federal Credit Union, inside the bank
Main Campus: Memorial, just outside the hospital cafeteria
South Street: in the vending area just outside the cafeteria
For more information about UMassFIVE College Federal Credit Union, click here.
Other banking institutions offer discounts and specialized banking services to UMass employees. To learn more, click here.