Page Menu
Your Facility Access
Photo Identification Badge

Your photo identification badge is provided by the Department of Parking and Access Control. It includes your photograph, name, and department. All members of UMASS Chan/UMMHC University Campus and persons on temporary assignment will be provided with a photo identification badge. The photo identification must be worn so it is visible to the public at all times when at work and on the UMMS grounds.
While there is no initial fee for the photo I.D. badge, there is a $10.00 replacement cost for a lost or self-damaged I.D. badge. Worn or broken ID's will be replaced at no charge. You must bring your damaged ID to the Parking Office for replacement.
Building and Parking Lot Access
The photo identification badge is also used for access control, including all building and parking access.
UMass Chan Directions
Find your way via these directions, posted on the About UMass Chan web page.
Worcester Parking Tags and Locations
The color coded reference will help you determine where you may park at UMass Chan, based on your tag. The parking web page has a detailed description of parking locations. Please note that parking in areas not aligned with your tag can result in a parking violation.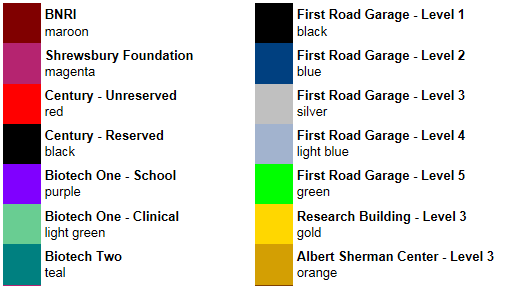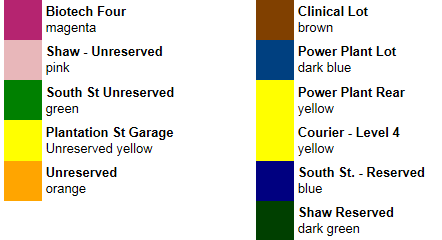 Parking Fees
Parking fees vary across campus and type, per the schedule below. Fees are automatically deducted from your paycheck on a bi-weekly basis.
Part Time Unreserved: $8.00

Temprite employees will be assigned to the Plantation St Garage unless working off site at which you will be assigned to that location.

Full Time – Unreserved: $16.00

This allows you to park in all designated parking lots which includes Level 6 of 1st Road,Levels 4 (designated areas only) & 5 of the South Rd Garage, the Pine Tree Lot, and North Road.

You may park in the reserved parking areas on campus only after 5:00 PM to 8:00 AM weekdays, and 24 hours on weekends and medical school holidays.

If your office is located at Biotech 1, 2, or 4, BNRI, Shrewsbury Foundation, Century Drive, or South St. you will also be given access at the University Campus to Unreserved Parking Lots during the day.

Full Time – Reserved

Level 1: $60.00

Level 2: $40.00

Level 3: $36.00

Level 3: $60.00

Level 4: $34.00

Level 5: $34.00

Clinical & Library Lot: $60.00

Power Plant: $34.00

Power Plant Rear: $34.00
MassBiologics Facility Access
For MassBiologics Facility Access, click here.
UMMS Web Resources:
Find out more from the Parking web page.