Page Menu
Strategic Planning: Vision 2020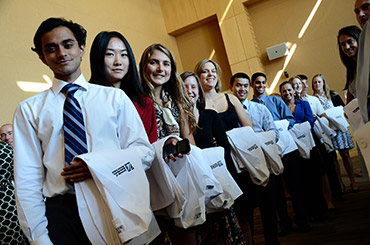 The year-long process of developing this 2015-2020 Joint Strategic Plan for UMass Medical School and UMass Memorial Medical Center revealed deep connections shared by faculty, staff, students and community members, along with a deep commitment to the future success of our institutions, especially as we face dramatic upheavals in health care financing and delivery; medical and health sciences education; and research funding and the translation of research into practice.
We have, together, coalesced around four strategic goals and four supporting goals to shape our growth and guide our evolution in the coming years. These strategic goals are:
EDUCATION: As an innovative, interprofessional community of students and educators, we will build a health care delivery and biomedical research workforce that makes a lasting impact on human and community health.
BASIC RESEARCH: Continuing to be a leader in Massachusetts life sciences research, we will enhance the basic science enterprise and drive intellectual excitement, potential new therapies and long-term sustainability through the engine of discovery, with special focus on areas of existing world-class strength.
TRANSLATIONAL RESEARCH: We will create a transformative research ecosystem that enables rapid development of products for clinical use, collaborates with the clinical system as a laboratory for clinical and translational research, and partners with the community to drive improvements in individual and population health.
HEALTH CARE DELIVERY: We will become the best academic health system in America based on measures of patient safety, quality, cost, patient satisfaction, innovation, education and caregiver engagement.
We can only reach these ambitious milestones by establishing an information technology environment that enables the best care and patient experience, educates the finest caregivers and scientists and accelerates future therapies; by attracting, inspiring, cultivating and retaining outstanding talent; by providing a high-value ecosystem that maximizes opportunities and optimizes outcomes for our patients who seek prevention, treatments and cures for cancer; for our trainees who seek to become experts in all aspects of cancer; and for our researchers who seek new knowledge for the prevention, treatment and cure of cancer; and, finally, by transforming shared service operations to better serve and support our missions.