Page Menu
Your Office Equipment and Workspace
Office Phone Numbers for IT
Information Technology offers different telephone systems that can be customized to fit the unique requirements of your department. Customization options include but not limited to:
Main line that appears on many phones
Special hotline
Private line for an individual
Recorded announcement that callers can hear while waiting for an agent
For more information, please see the resources listed on the IT web page under How Do I / Get Started.
While many contacts are available across the UMass Chan intranet and internet, we do not have a central phone directory lookup tool. Some staff use Outlook to look up phone numbers, by putting a colleague's name in the "To…" box, and either double-clicking on the name for the contacts detail, or search in the "To…" database.
Set Up Voicemail
In order to receive messages, you must initialize your mailbox. Do not hang up until you have completed the tutorial in full. If you do, and you have entered a new security code, you will be forced to change it again when you log back in.
Set Up Internally
From your desk phone dial: 5‐5555
The system will ask you to enter your Security Code (the temporary security code is: 1234)
Follow the tutorial
OR
Set Up Externally
Dial: 774‐455‐5555, when the system answers, press the # key
Enter your 5 digit mailbox number/extension (the temporary security code is: 1234)
Follow the tutorial and enter a new security code (do not begin with 0, use 4 -15 digits) then press [#] key
Re‐Enter Security Code to confirm, then press [#] key
Record your name this is what callers will hear if they send a message to you from within their own mailbox or use the dial by name feature from the Main Access Number to leave you a message
Press [2] to begin recording
Press [2] to stop recording
Press [5] to save
Press [6] to review
Press [4] to discard
Record a Personal Greeting
Press [2] to begin recording
Press [2] to stop recording
Press [5] to save
Press [6] to review
Press [4] to discard
MassBiologics Set Up Voicemail - For information on how to set up your voicemail at MassBiologics, call 617-474-3100 or email information@massbiologics.org.
Map a Printer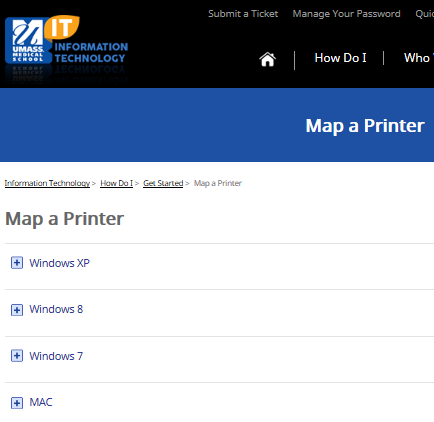 The IT web page How Do I / Get Started / Map a Printer found here, has detailed job aides you can use to correctly map a printer, based on your operating system and version.
Materials and Supplies
Most groups assign a team member to be the point person for acquiring materials and supplies. You can submit informal requests for standard supplies through this point person, who will take advantage of UMASS contracts with vendors to obtain the best deals on items you need.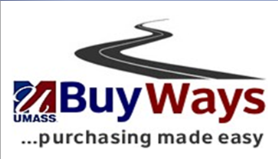 Your manager must submit an authorization form to Finance
You will attend instructor-led training for "BuyWays Requisitioner"
After training, Purchasing will authorize the expansion of your user rights
Workspace Personalization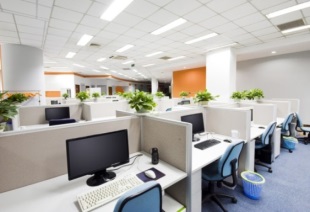 Most of us enjoy personalizing our workspaces. Yet, our personal expressions must support a civil and respectful workplace. Always be mindful of how your personalization may impact those around you.

In personalizing your workspace, many things are welcome, i.e. photos of family and friends and pet, plants, awards, degrees, etc. Be sure your choices don't impede your work, and are in keeping with building safety standard. During holidays you may receive specific guidelines for celebrations and décor that promotes inclusion.

Check with your manager, if you have questions.
Conference Room Map
Check with your department for access to a map of conference rooms at your site.
Room Reservation: Main Campus & South Street
There are many individuals and groups who use the various meeting rooms at UMass Chan. The Room Reservation team is seeking to improve our efficient use of these spaces by reducing the time and effort it takes to schedule meeting rooms.
Use the online self-service tool found here to see what rooms are available and to place a "hold" on a room pending approval by a member of the Room Reservations team. Refer to the RS Training Manual for training on the Room Reservations web page. If you work at another locations, consult with your manager.
Room Reservations
55 Lake Avenue North Worcester, Massachusetts 01655
508-856-2264