Page Menu
Charitable Events
Employee Giving Campaign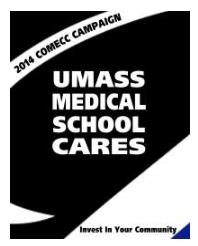 The Employee Giving Campaign is an annual fund-raising program that enables state employees across the Commonwealth to make a voluntary, confidential, one-time contribution (or bi-weekly payroll deductions) to a wide variety of vetted nonprofit, local, national, and international social service organizations. UMass Chan has a proud history of enthusiastic employee participation. We have been the leading contributor for many years running. Learn more at the Employee Giving Campaign website.
UMass Medicine Cancer Walk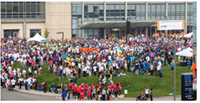 Each September, the UMass Medicine Cancer Walk brings thousands of individuals together to celebrate their fundraising success at the UMass Medicine Cancer Center of Excellence in Worcester, MA. In an effort to combat cancer and improve treatments, passionate individuals, business leaders, employees and community organizations form teams to raise funds supporting cancer research and care at the UMass Medicine Cancer Center of Excellence.
Toys for Tots

For more than 25 years, the UMass Chan community has been helping needy children in the area enjoy Christmas a little bit more through participation in the annual Toys for Tots drive. Coordinated at UMass Chan by the Public Safety Office, Toys for Tots is a national drive that was founded in 1947 by the U.S. Marines.
If you would like to contribute new, unwrapped toys, you will find collection bins located throughout the Worcester and South Street campus as well as at Biotech IV. Although Toys for Tots does not make specific recommendations about what toys to donate, leaving that choice up to the donor, the organization will not distribute realistic-looking toy weapons and gifts that contain food. It also accepts cash contributions through its website.
Dress for Success

The mission of Dress for Success is to promote the economic independence of disadvantaged women by providing professional attire, a network of support and the career development tools to help women thrive in work and in life. Dress for Success is a global not-for-profit organization offering services designed to help clients find jobs and remain employed. Each Dress for Success client receives one suit when she has a job interview and can return for a second suit or separates when she finds work.
At UMass Chan, the Women's Professional Committee periodically sets up collection stations and encourages staff to provide donations.
UMass Chan Development
In addition to charitable works for the community and the world, UMass Chan also actively encourages the development of donors to the schools.