Susan Gagliardi, PhD - Medical Educator Award
Date Posted: Monday, July 17, 2017
Susan Gagliardi, PhD Honored with Outstanding Medical Educator Award
Susan Gagliardi, PhD was chosen by the Class of 2017 as an Outstanding Medical Educator. The lettering announcing the award stated, "This Award is in recognition of your dedication to the field of medicine, your outstanding qualities as a teacher as well as being a role model our students would like to emulate in their professional career."
Susan Gagliardi is one of four Course Directors for the BRAIN course and is responsible for teaching the first track, Neuroanatomy, during this second year course for medical students. Other teaching responsibilities include lectures during the first year course Development, Structure and Function, Review lectures for both medical students and Neurology residents. This is not the first time that Dr. Gagliardi has been honored by graduating medical students. She was also the first recipient of the Chancellor's Award for Distinguished Teaching. Dr. Gagliardi has faculty appointments in Neurology and Radiology.

Dr. Gagliardi was presented the Outstanding Medical Educator Award at the Alumni Breakfast on Friday, June 2nd. Both students and faculty were honored at the breakast. Learn more about the Alumni Breakfast. Congratulations Sue!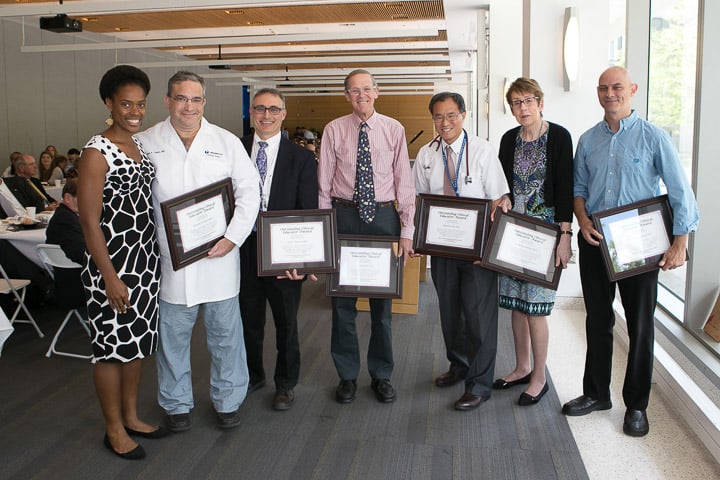 Susan Gagliardi, PhD, second from right, poses with fellow Outstanding Medical Educators Honorees.
Photo courtesy of Rob Carlin.