Anne Gilroy - 2nd Edition of Textbook
Date Posted: Monday, July 17, 2017
Launched - The Second Edition of Anatomy: An Essential Text Edited by Anne Gilroy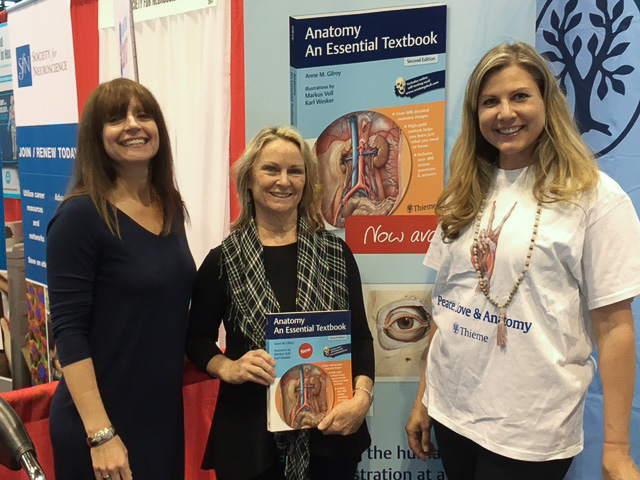 Anne Gilroy, center with two Thieme reps: Diane Otey, and Anne Kaiser
The 2nd Edition of Anatomy: An Essential Textbook edited by Anne Gilroy was launched in April at the American Association of Anatomists Annual meeting during the Conference on Experimental Biology.
Thieme's description of the textbook:
High-yield and masterfully illustrated guide provides the definitive state-of-the-art text for learning this challenging subject.
In the tradition of the highly praised first edition, Anatomy: An Essential Textbook, Second Edition by Anne M. Gilroy features noteworthy additions including radiographic representation of anatomical structures and illustrated clinical correlations.
The introductory chapter lays a solid foundation with basic concepts and expanded coverage of the vascular and nervous systems. Each profusely illustrated regional unit includes an overview, comprehensive information on bones, muscles, and neurovasculature and clinical imaging followed by review questions with complete answers and explanations.
Over 200 new images and 650 total show normal and pathologic anatomy and procedures
Over120 tables facilitate learning and include unique tables listing origin, insertion, innervation and action of muscles
Online access to WinkingSkull.com with "labels-on, labels-off" for self-testing of images and interactive review questions and answers
Clinical Correlation boxes provide detailed information on anatomic basis of clinical problems
Development Correlation boxes highlight important embryologic and life cycle concepts related to anatomical structures
New Clinical Imaging Basics sections address the practical applications of imaging modalities for specific anatomical regions
Build your anatomy knowledge and confidence with this stellar text.
Anne M. Gilroy, MA, is Associate Professor, Department of Radiology, UMass Chan Medical School, Worcester, Massachusetts, USA. She is the co-author of Thieme's renowned Atlas of Anatomy.