Annual Edward Smith Lecture
Date Posted: Monday, July 17, 2017
Ruth Carlos, MD, Presented the Tenth Annual Edward Smith Lecture
The Tenth Annual Edward Smith Lecture was presented by Ruth Carlos, MD on June 15, 2017. The title of her talk was Building Resilience. Dr. Carlos is a Professor in Radiology in the Division of Abdominal Radiology at the University of Michigan Health System. The annual lecture takes place in the afternoon before the evening graduation ceremonies of the Radiology Resident and Fellows.
"The Edward H. Smith, M.D. Annual Lectureship in Radiology at the UMass Chan Medical School has been established to honor Dr. Smith's service over two decades as Chair of the Department. Dr. Smith's vision for developing Radiology at UMass and his ability to attract and retain talented faculty created the foundations for the thriving Department we see today. In recognition of his leadership and dedication, this Lectureship will invite leaders of our specialty to share their clinical experience and scientific achievements." Department Chair, Max Rosen, MD, MPH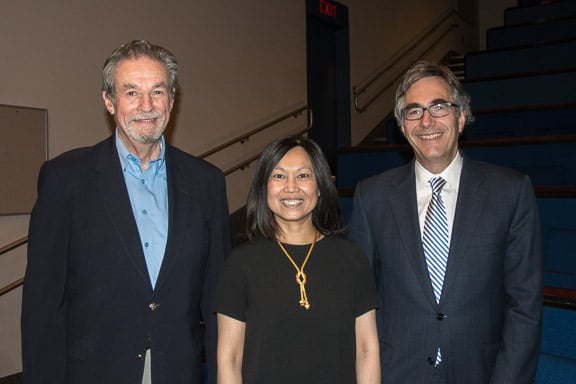 Drs. Edward Smith, Ruth Carlos and Max Rosen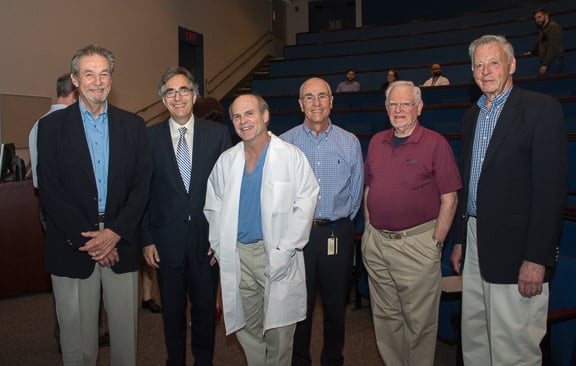 Radiology Faculty Alumni return for lecture -left to right: Edward Smith, Current Chair Max Rosen, Robert Sheiman, Alan Lucia, Peter Debrusck, and Ted Bergey.