Benjamin Auer - SNMMI One to Watch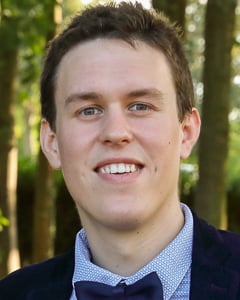 Benjamin Auer, PhD was delighted to be recognized as 'Ones to Watch' for 2021 by the Society of Nuclear Medicine & Molecular Imaging (SNMMI). It is such an honor! Congratulations Benjamin!
SNMMI's Ones to Watch campaign aims to recognize those with the potential to shape the future of precision medicine across all spectrums of the field. Members can nominate themselves or someone they know whose actions, work, or studies have set them apart as a future thought leader in nuclear medicine and molecular imaging.
Earlier this year Dr. Auer was appointed as an SNMMI intern to the Physics, Instrumentation and Data Sciences Council (PIDSC).
Benjamin Auer, PhD is an Instructor in Radiology working in Michael King's Lab where he contributes to ongoing projects in multi-pinhole SPECT imaging funded by NIH/NIBIB grants. Dr. Auer completed his PhD program at the molecular imaging department of the Institut Pluridisciplinaire Hubert Curien (IPHC), Strasbourg, France, focusing on the optimization of SPECT quantitative methods for preclinical studies and more specifically accelerated Monte-Carlo simulation based scatter compensation for preclinical practice. Dr. Auer was recently recognized by IOP Publishing with an 'Outstanding Reviewer' Award for his reviews in Physics in Medicine and Biology.