In the Spotlight - Patrick St. Jean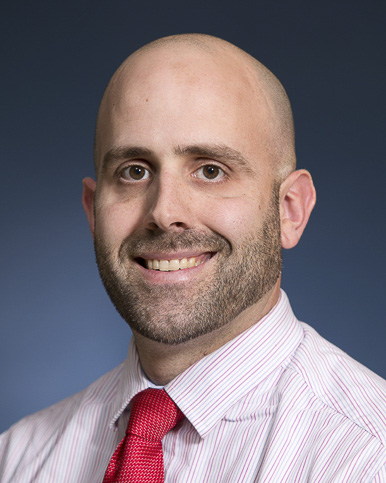 Patrick St. Jean has joined the department as our Director of Radiology IT. Patrick brings a wealth of experience to the position. He first joined the UMMHC team in 2009 as the Team Lead for Desktop Services at the University Campus. In 2011 he was hired by the hospital as Team Lead for Radiology Application Support, working with Julie Rivers to support platforms like Imagecast, iSite PACS, and lifeImage. From there he moved to IT Infrastructure as Manager of Hosted Technologies in 2016 and subsequently became Manager of Desktop Engineering in March 2017. Patrick was involved in the early stages of preparations for the transition to Epic. His unique experience and connections with Radiology, IT Infrastructure, Applications, and Desktop Support are a foundation for this new position within Radiology.
Patrick describes his new position as falling into three different areas of responsibility – helping to streamline day-to-day clinical IT operation, future-state IT planning and development, and school research-based IT. In the clinical operation bucket he'll be working with Julie Rivers (RIS/PACS Operations Manager), the physicians and technologists to improve current technology and help steer to new technologies. In the future-state bucket he is focusing on Artificial Intelligence (AI); helping to guide implementations like AI Doc, Arterys, and Heartflow. In the research bucket Patrick is working with Matt Gounis and Salman Shazeeb and eventually other researchers to assist with maximizing the efficiency of the UMMS-based PACS system. He will also be focused on designing an infrastructure that is intended to allow for easy image-sharing between clinical and school systems. His primary goal is to add value by aligning technology with the clinical needs of the department.
When asked Patrick explains that he has a "passion for collaborating." He is a "problem solver by nature" and likes thinking outside of the box. He is extremely excited to join the team and is very much looking forward to working with everyone in the department.
On the personal side, Patrick grew up in Southbridge, MA. He is a United States Army Veteran who served as an Infantryman in the 101st Airborne Division. Patrick attended Worcester State College completing a Bachelors degree in Interpersonal Communications. Patrick is engaged to be married in June and has become a step-father to two amazing daughters ages 8 and 10. He is an avid golfer and is always looking for folk to hit the links with. Patrick is close to his extended family who gather together often. Patrick likes to travel and finds that life is bigger with the experiences gained from travel and learning about other people.
Welcome Patrick!